Busan's Asean Culture House promotes regional understanding in Korea
The Asean Culture House (ACH) not only enhances the Korean public's understanding of the culture and society of Sout-East Asian countries but also helps visitors to learn more about their own rich culture.
Media representatives from Asean member countries, including Laos, had a chance to visit and explore the exhibition space during a visit to Busan Metropolitan City as part of the 2017 Asean Media People's Visit to Korea programme from October 12-20, hosted by the Foreign Ministry of the Republic of Korea.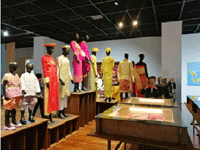 A wedding dress collection from South-East Asia at the venue.
This year's Media Exchange Visit is the 18th in the series since its inception in 1999 and has been providing an excellent opportunity to deepen friendships and cooperation between Asean nations and Korea.
This year's visit, under the theme 'Asia, Connected by Culture', was indeed meaningful and timely as the nations celebrate the 50th anniversary of Asean and the year of Asean-ROK Cultural Exchange.
To enhance cultural reciprocity between Asean and Korea, the Korean government opened the Asean Culture House in Busan on September 1 this year to serve as a lively platform to enhance Koreans' understanding of the culture and society of Asean countries and to promote mutual awareness and friendship between the people of Asean nations and Korea.
Asean consists of Brunei Darussalam, Cambodia, Indonesia, the Lao PDR, Malaysia, Myanmar, the Philippines, Singapore, Thailand and Vietnam, which geographically are all relatively close to the Korean peninsula.
This is the first time Korea has created a place that combines culture and other aspects of Asean member states, Director General of the Asean Culture House, Mr Seunghoon Ham, said.
"The objectives are to provide Koreans with accurate information about Asean, deepen mutual understanding between Korean and Asean residents, initiate cultural and academic networks between Korea and Asean, serve as a cultural and community centre for the Asean mission in Korea, and promote Asean-related diplomatic cooperation at the central and local government levels," he said.
"I hope more and more Asean people visiting Busan will come and see their own cultures and Korean culture at the house," he added.
Throughout the year, the Asean Culture House hosts a permanent and numerous special exhibitions to illuminate the histories, societies and cultures of the 10 Asean countries. It will also showcase performances by musicians and artists and films by directors from Asean countries that are rarely shown in Korea.
In doing so, the facility will help visitors to better understand Asean. Through various lectures and cultural experience programmes as well as the Asean Information Centre, which provides books and multimedia materials about Asean countries, the Asean Culture House provides opportunities for the Korean and Asean peoples to gain a better understanding of each other's histories and cultures.
To promote inter-cultural exchanges between Koreans and Asean residents in Korea and foster a community between Korean and Asean youth, the facility holds numerous events year round, including a multi-cultural festival. It also provides a platform for academics from Korea and Asean countries to network with each other.
Through the programmes and activities on offer, organised in close cooperation with Asean member states as well as related domestic and overseas organisations, the venue will contribute to a future-oriented relationship between Korea and Asean.
The Asean Culture House is an open space where children, students and the general public, including Asean and other foreign residents in Korea as well as tourists, can communicate with and befriend each other.
It is located at 162 Jwadong-ro, Haeundae district, Busan Metropolitan City.
During the visit to Busan, Asean media representatives also visited the APEC Climate Centre where they were introduced to the Asean-ROK Cooperation Project. They also attended the opening ceremonies of the Busan International Film Festival and Fly Film Festival.
By Times Reporters
(Latest Update November 30, 2017 )