Chao Anouvong statue commemoration marks king's contribution to Laos

This weekend marks the 7th anniversary of the installation of the Chao Anouvong statue in Vientiane with activities organised today and tomorrow to commemorate this important event.
Traditional ceremonies to donate offerings and dedicate merit will start today at 3pm with the rituals running overnight and culminating in almsgiving tomorrow morning for 125 monks starting at 7am.
The celebrations are being held at the Chao Anouvong monument over the weekend (November 11-12) at Chao Anouvong Park, on the Mekong riverbank in Chanthabouly district.
This very important event is being held to honour and give thanks to Chao Anouvong who fought tirelessly against the nation's enemies and united the Lao people in solidarity.
Annual celebrations have taken place following the installation of the statue in 2010.
Authorities and people from all walks of life enjoy taking part in the events and giving donations and alms in order to dedicate them to Chao Anouvong and other ancestors.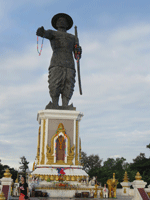 The majestic statue of Chao Anouvong. --Photos Visith
As with previous events, this year's celebrations have been organised by Chanthabouly district and the Lao Buddhist Fellowship Organisation, with the public invited to take part.
Head of the Chanthabouly district Administration Office and member of the organising committee, Mr Keopaseuth Xaypanya, said they were very happy to arrange the celebration because it honoured and gave thanks to Chao Anouvong, a historic figure in Lao history who worked tirelessly for the country.
"We have prepared various activities including a mini cultural performance and traditional rituals in honour of Chao Anouvong."
"We have invited people from many sectors of government as well as the general public to take part in this important event," he added.
"Chao Anouvong was our hero who fought and made sacrifices for the country while unifying the people. He also established many traditions which we should learn from. So this is the right time to show respect and dedicate merit to him."
Chao Anouvong was born in 1767 in Vientiane and reigned over the Lao kingdom from 1805 to 1828, passing away in 1829 after being held captive by the Siamese in Bangkok.
Chao Anouvong was the last king of the Lao Lane Xang Kingdom of Vientiane. He fought valiantly against the Siamese invasion of the Kingdom but was ultimately unsuccessful and was captured. The Kingdom of Vientiane was forced to surrender to Siamese rule and ceased to exist. Because of his persistent attempts to defeat the Siamese and other enemies, Chao Anouvong is considered a courageous hero who fought and won several victories for Lane Xang Kingdom up until the time of his death.
Chao Anouvong is revered by the Lao people because he instilled the great traditions of national unification, protection and development. He is also respected for his administrative and nation building skills and the development of martial arts.
During his reign, he ordered the construction of countless temples and many still remain today, such as Vat Sisaket and Hor Phakeo.
Chao Anouvong is considered a war hero and at the foot of his statue a small altar has been installed where people can make offerings and prayers.
In 2010, to commemorate the 450th anniversary of the city of Vientiane, the government decided to build the statue and park in honour of Chao Anouvong.
The majestic 8.29-metre bronze statue of the king looks out over the Mekong.
The park covers about 14 hectares and is open night and day. It has become a popular spot for Vientiane residents and visitors to relax and exercise, especially after work. There is also a lively night market displaying local products every evening.
People come daily to worship at the monument with flowers, candles and incense sticks, revering Chao Anouvong for his great deeds and believing he will bless and protect them.
ByVisith Teppalath
(Latest Update November 11, 2017 )