Washing our hands can prevent diseases and save lives

"Have you washed your hands? With soap?"
These are questions that many children grow up hearing from their dutiful parents and elders, and find themselves repeating to the next generation.
While awareness of the need for cleanliness is on the rise worldwide and here in Laos, too many people still neglect this basic hygiene practice in daily life, something that Global Handwashing Day was created to address.
This year's theme for Global Handwashing Day is 'Our Hands, Our Future'. Handwashing can prevent diseases and protect health, which in turn saves lives.
According to the World Health Organisation (WHO) in Laos, handwashing is an affordable, effective way to prevent gastrointestinal infections and diarrhoea, and other infections acquired in healthcare settings. Washing your hands at the right time stops the spread of antibiotic resistance.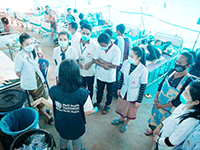 Washing hands thoroughly with soap can prevent the spread of communicable diseases.
Health workers will be reminded next month of the importance of handwashing, through the Antibiotic Awareness Week campaign to remind health workers to stop antibiotic resistance spreading by making infection prevention and hand hygiene a priority.
Washing hands with soap protects the health of clinicians and patients. Better health can lead to achievement of the Sustainable Development Goals on improving nutrition, health, more days at school and work, improved productivity, and reduce poverty and inequalities.
In Laos, a lack of clean water is often a challenge for health workers working in rural areas. WHO is working with the Ministry of Health to provide access to clean water in health facilities. At the same time, there are water safety plan programmes to provide safe piped water to communities.
In some areas like Khong district in Champassak province, this programme has been expanded to a Community-led Initiative to eliminate Schistosomiasis by combining deworming with WASH interventions (CL-SWASH) targeted to achieve elimination of schistosomiasis as a public health problem by 2020.
The plan includes building lavatories and animal sheds and improving the overall cleanliness of villages. These community-led projects empower the villagers to make the changes, encourage local ownership, and promote long-term sustainability.
WHO stresses that Global Handwashing Day aims to encourage everyone to wash their hands regularly, but especially before preparing food, eating, and after using the lavatory. Your hands, your future #GlobalHandWashingDay.
Director of the Vientiane Health Department, Dr Phonepaseuth Ounaphom, says hand washing with soap is the most effective and inexpensive way to prevent diarrhoeal and acute respiratory infections, which take the lives of millions of children in developing countries every year.
Together, they are responsible for the majority of all child deaths. Yet, despite the lifesaving potential, hand washing with soap is seldom practised and difficult to promote in some areas.
Dr Phonepaseuth said that handwashing is an easy and effective way to prevent the spread of many types of infection and illness in all settings—from home and workplace to child care facilities and of course in hospitals.
Clean hands can stop germs from spreading from one individual to another and onward throughout an entire community.
When should you wash your hands?
1 Before, during, and after preparing food
2 Before eating food
3 Before and after caring for someone who is sick
4 Before and after treating a cut or wound
5 After using the toilet
6 After changing diapers or cleaning up a child who has used the toilet
7 After blowing your nose, coughing, or sneezing
8 After touching an animal, animal feed, or animal waste
9 After touching garbage
What should you do if you don't have soap and clean, running water?
Washing hands with soap and water is the best way to reduce the number of microbes on them in most situations.
If soap and water are not available, use an alcohol-based hand sanitiser that contains at least 60 percent alcohol.
Alcohol-based hand sanitisers can quickly reduce the number of microbes on hands in some situations, but sanitisers do not eliminate all types of germs.
Encourage children to wash their hands by showing them how to do it, and by setting them a good example.
How to wash your hands:
1 Wet hands with water
2 Apply enough soap and handwash to cover all hand surfaces
3 Rub hands palm to palm
4 Right palm over the other hand with interlaced fingers and vice versa
5 Palm to palm with fingers interlaced
6 Backs of fingers to opposing palms with fingers interlocked
7 Rotational rubbing of left thumb clasped in right palm and vice versa
8 Rotational rubbing, backwards and forwards with clasped fingers of right hand in left palm and vice versa
9 Rinse hands with water
10 Dry thoroughly with a towel. Duration of procedure: at least 15 seconds.
By Times Reporters
(Latest Update October 17, 2017)