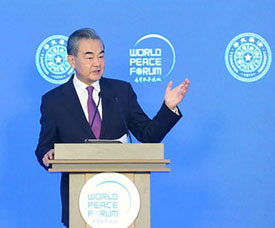 Chinese Foreign Minister of China Wang Yi.                --Photo Chinese Embassy to Myanmar
Chinese FM urges int'l community to avoid punishment, intervention with Myanmar
MYANMAR (Eleven Media/ANN) -- State Councilor and Foreign Minister of China Wang Yi has called on the international community to do more to help promote internal dialogue and realise political reconciliation in Myanmar, stressing the need to avoid punishment and inappropriate intervention.
Wan Yi made the remark during his keynote speech titled "Safeguarding World Peace and Promoting Human Progress" at the opening ceremony of the 9th World Peace Forum held at Tsinghua University in China on July 3, the Chinese embassy to Myanmar reported.
On the issue of Myanmar, the core is to promote internal dialogue and realise political reconciliation. The difficulties facing Myanmar in its democratic transition are basically its internal affairs, the Chinese foreign minister said.
He also stressed that Myanmar needs to avoid further violence by seeking political dialogue and solutions in accord with the constitution and within the framework of law while the international community should stay away from punishment and inappropriate interference by respecting Myanmar's sovereignty and the will of its people.
China firmly supports the Asean in securing an early "soft landing" for the situation in Myanmar in the Asean way. China stands ready to jointly provide Myanmar with anti-pandemic and economic assistance, and it will strengthen communication and mediation through leveraging its friendly relations with all parties of Myanmar, Wang Yi added.

(Latest Update July 8, 2021)