Duterte gets Sinopharm shot as Sputnik V rollout starts

MANILA (Philippine Daily Inquirer/ANN) -- As the rollout of Russia's Sputnik V vaccine doses in Metro Manila began, President Rodrigo Duterte was inoculated on Monday with China's Sinopharm vaccine.
It was Health Secretary Francisco Duque III who administered the vaccine to the president, with the event aired live on the Facebook page of Sen. Christopher "Bong" Go.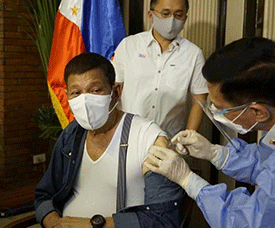 Philippine President Rodrigo Duterte receives his first dose of China's Sinopharm COVID-19 vaccine in the Philippines, May 3, 2021. --Photo Xinhua
"I feel good and I have been expecting this shot, vaccination a long time ago," Duterte said in the video.
He said it took his doctor a long time to make an assessment before recommending that he get Sinopharm, although the Food and Drug Administration (FDA) has yet to grant an emergency use authorisation on the vaccine manufactured by China National Pharmaceutical Group Corp.
But the FDA in February granted the Presidential Security Group a compassionate use permit for 10,000 doses of the vaccine.
In his press briefing on Monday morning, presidential spokesperson Harry Roque said, "I will ask him (Mr. Duterte) later if he will now consider Sputnik V."
The President had earlier said he preferred to be vaccinated with either a Chinese or Russian vaccine.
An initial batch of 15,000 Sputnik V doses that arrived on Saturday was rolled out on Monday in the cities of Makati, Taguig, Muntinlupa, Parañaque, and Manila, which will get 3,000 doses each.
The Department of Health (DOH) went ahead with the rollout, despite the vaccine being banned in Brazil after its health regulator cited risks to persons with low immunity and respiratory problems.
In her press briefing, Health Undersecretary Maria Rosario Vergeire said this was the first time the country would handle ultra-cold vaccines, which require storage at -18ºC. The vaccines used in the country are stored at 2ºC to 8ºC.
"We will draw experience from this initial rollout to prepare for the 485,000 [doses] that will arrive before the end of the month," Vergeire said.
In a statement, Muntinlupa Mayor Jaime Fresnedi confirmed that his city had received 3,000 doses of the Russian vaccine, as he thanked the national government for that allotment.
The Sputnik V jabs were stored at the Ospital ng Muntinlupa and the Asian Hospital and Medical Centre.
The DOH had cautioned against the use of the Sputnik V doses on people 60 years and above, in accordance with the emergency use authorisation for the vaccine.


(Latest Update May 5, 2021)