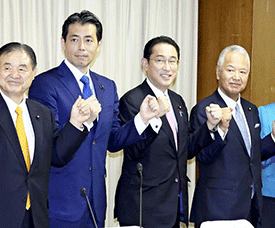 Liberal Democratic Party President Fumio Kishida (centre) stands with newly appointed party executives at the LDP headquarters in Tokyo on Friday. --Photo the Yomiuri Shimbun
LDP launches new leadership
JAPAN (The Japan News/ANN) -- Liberal Democratic Party President Fumio Kishida launched his party's new leadership team on Friday.
Kishida picked Akira Amari, 72, as secretary general; House of Representatives member Tatsuo Fukuda, 54, as chairperson of the General Council; former Internal Affairs and Communications Minister Sanae Takaichi, 60, as chairperson of the Policy Research Council; and Toshiaki Endo, 71, a former minister in charge of the Tokyo Olympic and Paralympic Games, as head of the Election Strategy Headquarters. Taro Aso, who is currently deputy prime minister and finance minister, was tapped as LDP vice president.
On Friday afternoon, the ruling party held an extraordinary General Council meeting where the appointments of the new party executives were approved.
Amari, who previously served as chairperson of the LDP Research Commission on the Tax System and is now set to play a key role in steering the LDP as secretary general, is close to former prime ministers Shinzo Abe and Aso, and was a central figure in the Abe administration.
It is thought that Kishida wants to ensure a stable administration with the backing of the "3 As" — Abe, Aso and Amari. A likely challenge for Kishida will be whether he can add his own color to the administration.
"We must take seriously the great responsibility as our faction has produced a party president for the first time in 30 years," Kishida said Thursday during a faction meeting.
A member who attended the meeting said, "Our primary mission is to protect President Kishida."
However, the 46-member Kishida faction is only the fifth-largest of the party's seven factions.
To manage the government stably, Kishida will need the cooperation of the party's largest faction, the 96-member Hosoda faction, which once counted Abe as a member, and the 53-member Aso faction, the second-largest.
With this in mind, Amari, a senior member of the Aso faction, emerged as Kishida's choice for the post of LDP secretary general. Together with Aso, Amari played a central role in supporting the Abe Cabinet, and even today, the three party heavyweights are strongly united.
Kishida has also made efforts to strengthen his relationship with Abe, Aso and Amari, such as launching a parliamentary group in June whose members included the trio.
Reward for campaigning efforts
The secretary general has tremendous authority over matters such as the approval of LDP candidates in national elections and the allocation of party funds.
Toshihiro Nikai, who heads the LDP's fourth-largest faction with 47 members, held the post for more than five years, the longest tenure in the party's history.
Abe was adamant that a lawmaker close to him should be appointed secretary general. "Everyone is paying attention to who will be appointed secretary general," he said to people in his inner circle during the party leadership race.
Amari announced his support for Kishida early on in the election, instead of Aso faction member Taro Kono, the minister in charge of administrative and regulatory reform.
As an advisor on Kishida's campaign team, Amari served as a messenger between Kishida, Abe and Aso, and was given credit for such efforts as confirming the alliance between Kishida and Takaichi, who Abe backed, in the event of a runoff in the leadership race.
Kishida told Aso about his plan to appoint Amari as LDP secretary general on Tuesday night when it became clear that he was certain of victory. Aso accepted the plan after consulting with Abe, according to sources.
Amari effectively started his duties on Thursday, when he informed Kono that he had been nominated as the chairperson of the LDP's Public Relations Headquarters.
However, there are concerns among some party members.
In January 2016, Amari resigned as minister in charge of economic revitalization under the Abe Cabinet over a scandal linked to politics and money.
The opposition parties criticized him, saying at that time that he had not fulfilled his accountability.
Although Kishida has called for greater accountability and transparency regarding such issues, a former cabinet member said Amari's appointment "could give the opposition camp a reason to attack [the LDP]."
Meanwhile, Kishida picked Takaichi as head of the LDP Policy Research Council. The LDP president, who admits that he does not stand out, has hopes that Takaichi will become a standard-bearer for the LDP in future elections.
The appointment was also likely out of consideration for Kishida's relationship with Abe. According to sources, Kishida confirmed Abe's wishes in advance regarding Takaichi's treatment after the election.
In addition, Kishida picked former cabinet minister Hirokazu Matsuno for the post of chief cabinet secretary in response to Abe's wish for a member of the Hosoda faction to be LDP secretary general or chief cabinet secretary of the government.

(Latest Update October 3, 2021)