Lockdown to ease before Eid
BANGLADESH 9The Daily Star/ANN) -- Just a day after the health directorate's grim warnings over the deteriorating Covid situation, the government on Monday announced relaxing the ongoing "strict lockdown" ahead of the Eid-ul-Azha.
The restrictions enforced by the government to contain the spread of Covid will be relaxed from July 15 to 22, said a Press Information Department (PID) handout on Monday.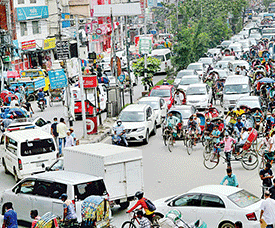 Vehicles stuck in traffic on DIT Road in the capital's Rampura around 10:00am on Monday.
--Photo Anisur Rahman
Strict restrictions, however, will be re-imposed on July 23. "The Cabinet Division will issue a circular tomorrow [today] in this regard," it added.
Experts fear that the government decision would lead to further increase in virus infections across the country.
Cabinet Division sources said the government is also considering allowing public transports and shopping malls to operate on a limited scale during this period on the occasion of the Eid-ul-Azha to be celebrated on July 21.
Public transports could operate with half of their seats vacant. And shops could be allowed to reopen, maintaining the health safety guidelines, they said.
Railways Minister Nurul Islam said trains will run at half capacity from July 15, complying with the health safety rules. Tickets will be available online from tomorrow.
Launches will also be permitted to operate on certain conditions.
Besides, temporary cattle markets will be allowed across the country on the occasion of the Eid-ul-Azha. The two Dhaka city corporations have already issued notifications about the places chosen for setting up cattle markets in the capital.
The decision to ease the ongoing lockdown comes hard on the heels of an alarming surge in infections and deaths from Covid.
At least 13,768 people were infected with the virus in 24 hours till 8:00am yesterday, the highest in a single day.
The total number of infections stood at 10,34,957, according to the Directorate General of Health Services (DGHS).
At least 220 people died from the virus in the 24 hours, raising the death toll to 16,639.
Earlier on Sunday, the DGHS sounded alarm over the Covid situation. At the daily briefing, its spokesperson Dr Robed Amin said no hospital beds will be available in the next seven to 10 days if the current infection rate and patients' rush to hospitals continue.
Experts fear that the government decision to ease the lockdown may aggravate the already deteriorating situation as it would be difficult to ensure the health guidelines during home rush and at cattle markets.
And if the situation deteriorates further in the coming week due to relaxation of the restrictions, things would be out of the government's control as the healthcare system is already under severe stress amid a surge in patients all over the country, they added.

(Latest Update July 14, 2021)