Mixed reaction for "green" vaccine passport in Europe
VALLETTA (Xinhua) -- The European Commission is planning to put forward its long-awaited and controversial Digital Green Pass on Wednesday, a vaccine passport designed to help Europe's safe re opening.
The move is viewed as an important step for the European Union (EU) to gradually revive economic activities and bring life back to normal, while concern remains rife over the feasibility of such a certificate.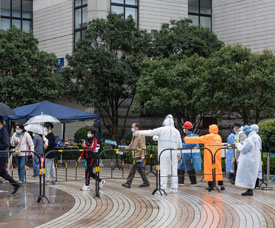 Minister for Science and Technology Fawad Chaudhry (left) addresses a joint press conference with Minister for Industries Hammad Azhar.  --Photo DawnNewsTV
As the COVID-19 pandemic continues to spread across Europe and vaccination campaigns remain underway, the idea of issuing a vaccine passport has been under consideration among EU countries, and with differing views.
With yet no end in sight for the pandemic, European countries heavily dependent on tourism and services are eager to ease travel restrictions so as to sustain their struggling economies.
The Digital Green Pass would provide proof that a person has been vaccinated, test results for those not yet vaccinated and information on COVID-19 recovery, European Commission President Ursula von der Leyen tweeted on March 1, adding that the aim is to gradually enable safe travel within the EU or abroad, for work or tourism.
The EU is also reportedly planning to introduce a vaccine passport, valid only for holders injected with vaccines approved by the European Medicines Agency (EMA). So far, only four vaccines including Pfizer/BioNtech, AstraZeneca, Moderna and Johnson & Johnson have been approved by the agency.
Another COVID-19 wave is sweeping across Europe and threatening to prolong restrictions and lockdowns. As of Monday, more than 24 million COVID-19 cases in total have been reported in the EU and the European Economic Area.
"We are seeing a resurgence in Central and Eastern Europe. New cases are also on the rise in several western European countries where rates were already high," World Health Organisation (WHO) Regional Director for Europe Hans Kluge said on March 4 during a virtual press conference in Copenhagen.
Anxiety over the pandemic is further compounded by the slower-than-expected vaccination rollout across the continent due to supply and delivery problems.
As of Monday, some 46.8 million doses of vaccines have been administered within the bloc, according to figures released by the European Center for Disease Prevention and Control.
Countries such as Greece, Cyprus and Malta, which rely heavily on tourism and services and have been suffering from a sharp decline in tourists, expressed hope to put the vaccine passport into practice at the earliest time possible. Countries including Poland, Austria, Bulgaria also voiced their support.
"We support the adoption of a joint approach in relation to the Digital Green Pass," Deputy Minister for Tourism of Cyprus Savvas Perdios told Xinhua."Such a development could allow on the one hand vaccinated people to travel without the need for laboratory tests, while on the other would not exclude unvaccinated people (from traveling) as they would be able to do that by producing a negative test certificate for coronavirus," he added.
Greek Prime Minister Kyriakos Mitsotakis is the first European leader to raise the issue of a common European vaccine certificate, which "will serve the purpose of simplifying travel, once a significant percentage of people have been vaccinated," according to a press release from the prime minister's office.
(Latest Update March 18, 2021)