Rain disrupts life in Khulna city
BANGLADESH (The Daily Star/ANN) -- After yesterday noon's rainfall, two-thirds of Khulna city had to deal with severe waterlogging. The rain inundated the city and made residents suffer immensely.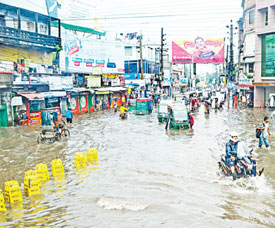 Khulna city's Royal Mor looked less like an intersection and more like a small pond after yesterday's rainfall. The situation was similar in many of the city's roads.                                                                                                          --Photo Habibur Rahman
Amirul Azad, senior Met officer of Khulna Regional Met Office, told The Daily Star that Khulna recorded 40 millimetres of rainfall from 12pm to 3pm.
The weather is expected to be sunnier today, he said.
Issues mounted yesterday, as the rainwater did not recede fast enough from most areas, because of siltation and adjoining canals being grabbed, said locals.
Md Rubel Mollick, a tea-stall owner at Sheikhpara area, said almost all the drains of Tatultala, Moilapota and Shibbari were filled with garbage.
"Khulna City Corporation (KCC) seldom comes to clean the drains. In just two hours, my home was flooded because of the sudden rain," he added.
Masuk Ahmed, a resident of Basu Para, said, "Just a little rainfall caused such a
horrible situation, so if there's a downpour, what will happen?"
"Twenty canals in the city are not regularly excavated, and some land grabbers have occupied major parts of the canals. These are the main reasons behind waterlogging," he added, urging authorities to take action.
After visiting many areas - including Sheikhpara, Moilapota, KDA Avenue, Khanjahan Ali Road, Lower Jashore Road, Rupsha Strand Road, Sher-e-Bangla Road, Iqbalnagar, Tutpara, and other low-lying areas - this correspondent found that the areas were submerged in knee-deep water, making vehicular movement difficult.
Rainwater flooded Moilapota kitchen markets, Newmarket, and many slums including those at Rupsha and Khalishpur. Ground floors of most buildings were inundated. Many human hauliers and easy-bikes were found stranded on waterlogged roads, while many residents were seen struggling to find transport.
City dwellers were seen walking through knee-deep water. The busiest Royal Mor practically looked like a waterbody.
KCC Chief Conservancy Officer Md Abdul Aziz told The Daily Star, "We clean all drains round the year, but people dump their household garbage in them regularly. They ought to follow civic rules and store garbage at designated points."
Md Aminul Islam Munna, panel mayor-1 of KCC, said to improve the situation, a project worth Tk 843 crore has been undertaken to alleviate waterlogging and develop the drainage system.
"Under the project, we have also started development work for 27 drains at a cost of Tk 65 crore," he said.

(Latest Update October 1, 2021)