UAE follows Brazil's lead with plan to make Chinese vaccine

BEIJING (China Daily) -- The United Arab Emirates plans to make a Chinese-developed COVID-19 vaccine under license, with the Persian Gulf nation aiming to follow Brazil down that path in a bid to ensure supplies.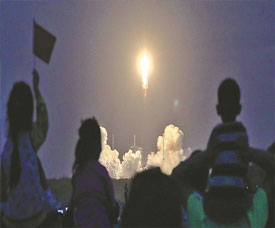 A man receives a dose of a vaccine against the coronavirus disease at St. Paul's Church in Abu Dhabi, United Arab Emirates recently.
The UAE, which in December became the first country to approve the emergency use of a coronavirus vaccine from Sinopharm, has secured a deal to manufacture the Chinese firm's vital product later this year, according to Abu Dhabi-based newspaper The National.
The country is among a number that are seeking to localise the production of vaccines developed by China to meet challenges in vaccine supply and threats of more infections arising from new coronavirus strains. Brazil has sped up preparations for manufacturing CoronaVac, a vaccine from China's Sinovac Biotech.
A report from South Africa said the Sinopharm vaccine is strong in countering the new variant found in the country, while Moroccan authorities said it is effective in older people, Xinhua reported.
Patrick Cooke, managing editor for the Middle East and Asia at Oxford Business Group, a global publishing, research and consultancy company, said the UAE's vaccine manufacturing plan is a "positive development".
The UAE authorities have been campaigning hard to get their citizens inoculated. "The Sinopharm vaccine is an integral part of the UAE's voluntary vaccination programme," Cooke said. "So far this programme must be deemed a success, with the UAE enjoying the second-highest per capita vaccination rate in the world.
"As an open and diverse economy with excellent infrastructure and a vibrant labor market, there is no reason why the UAE could not produce large volumes of the vaccine," said Cooke, noting that the UAE and China have worked closely to overcome other challenges associated with the pandemic and that the bilateral relationship appears strong.
At a regular news conference on Monday, Wang Wenbin, China's Foreign Ministry spokesman, said China supports domestic companies in conducting joint R&D and manufacturing with foreign partners, and in exporting vaccines to countries that are in urgent need, have certified Chinese vaccines, and authorised their emergency use.
"We also support and assist foreign vaccine companies in manufacturing in China, whose vaccines will then be delivered overseas," he said.
Sinovac has been cooperating with Brazil's Butantan Institute, a public research center and one of the largest vaccine makers in the world, to co-manufacture the vaccine in Sao Paulo for domestic use and for exports to other countries in South America.
Brazilians are now "really proud" of the approvals and the fact that technology transfers will give the country's vaccine industry a boost, said Benny Spiewak, a lawyer and partner at SPLaw, a life sciences-focused law firm in Sao Paulo.
The Butantan Institute is working toward a goal of manufacturing 600,000 doses of CoronaVac a day, reaching more than 17 million doses by mid-March. Chinese technology and supplies are key to support such a level of production.
(Latest Update February 11, 2021)