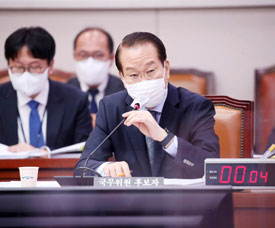 Unification Minister nominee Kwon Young-se speaks during his parliamentary confirmation hearing at the National Assembly in Seoul on Thursday. --Photo Yonhap via the Korea Herald
Unification minister nominee willing to visit Pyongyang as special envoy

(The Korea Herald/Asia news Network) -- Unification Minister nominee Kwon Young-se said he would consider visiting Pyongyang as a special envoy when he steps into office, during a parliamentary confirmation hearing on Thursday.
"I will consider the situation with North Korea and consult with our foreign policy and national defense team and openly consider the possibility," he said in response to a question from Rep. Lee Tae-kyu of the ruling People Power Party.
Kwon is a four-term lawmaker who is considered a close associate of President Yoon Suk-yeol.
Kwon also said that a government's policy to deal with North Korean issues should be understood as "a relay race," and that all agreements the former liberal Moon Jae-in administration has made with North Korea would stay valid.
"In the transition periods, there have always been criticisms against former administrations. But I believe it is not appropriate to completely ignore (the works) of former governments and go in reverse, just because of the criticisms," Kwon said.
"The idea to 'reverse everything Moon Jae-in did' would not only cause confusion in our North Korean policies and the North, but may also give way for Pyongyang to exploit the situation." The nominee said he evaluates the past agreements forged between former President Moon Jae-in and the North Korean leader Kim Jong-un as "positive."
The two agreements, the Panmunjom Declaration inked between Moon and Kim on April 27, 2018, and Pyongyang Joint Declaration on September 19 in the same year will remain valid under the Yoon Suk-yeol administration, Kwon added.

(Latest Update May 13, 2022)