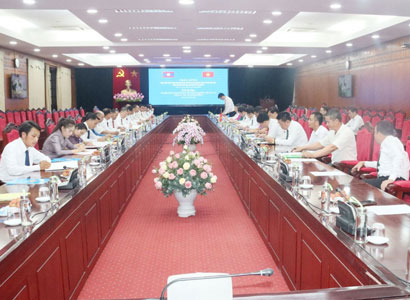 A delegation from the Lao Front for National Development (LFND) meets the leaders of Son La province in Vietnam.
Lao Front members make working visit to Vietnam
A delegation from the Lao Front for National Development (LFND) this week paid a courtesy visit to the leaders of Son La province in Vietnam, to share lessons learnt and discuss development issues.
The delegation was led by the Front's Vice President, Prof. Dr Od Phongsavanh, and welcomed by the Vice Chairman of Son La People's Committee and Deputy Governor of Son La province, Mr Lo Minh Hung, and other senior provincial officials.
Mr Hung expressed his gratitude and said he greatly appreciated the visit by the Lao Front delegation, as well as a delegation from Huaphan province.
The visit saw the two sides discuss the sharing of technical skills and other topics of mutual interest.
They committed to further strengthening their relationship and support for each other in the field of economic development, especially in relation to cooperation agreements signed between the provinces of Huaphan and Son La in 2019.
Mr Hung briefed the visiting delegation on the overall development of Son La province in the fields of socio-economic development, culture, education, agriculture, and industry.
Prof. Dr Od sincerely thanked the leaders of Son La province for their warm welcome and explained the reasons for the delegation's visit.
The two sides also discussed agricultural issues and the Lao Front delegation asked Son La province authorities to try to persuade Vietnamese businesses to invest in Huaphan province.
The delegation from Huaphan province suggested that Vietnamese businesses invest in a fruit processing factory, the production of fertiliser, and vaccines for livestock and poultry.
In addition, the Lao delegation asked Vietnamese experts to provide technical training on livestock breeding, agriculture, food processing, and the efficient use of fertiliser.
By Advertorial Desk
(Latest Update June 24, 2022)