Lao delegation takes part in global UN debate
Deputy Prime Minister and Minister of Foreign Affairs Saleumxay Kommasith is leading a Lao delegation attending the 77th Session of the United Nations General Assembly (UNGA 77), in New York, USA.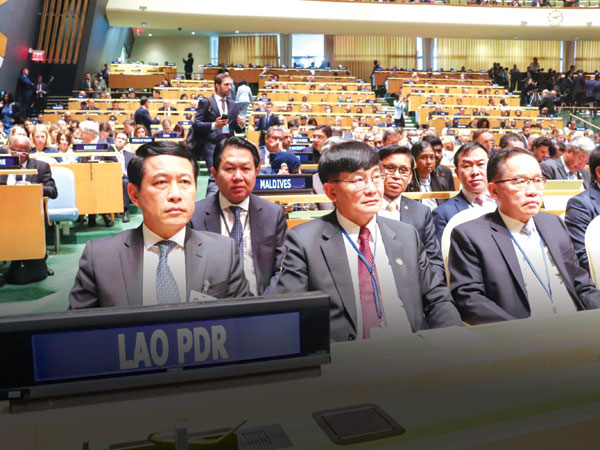 Deputy Prime Minister Saleumxay Kommasith (first left) and his delegation attend the United Nations General Assembly in New York.
The theme of discussions is "A watershed moment: transformative solutions to interlocking challenges."
The forum opened on September 13, with a High-Level Week taking place from September 19-23.
According to the Ministry of Foreign Affairs, apart from UN member countries, all 193 countries are participants and take turns to express the views and vision of each country on important global issues such as food insecurity, the Covid-19 pandemic, post-pandemic economic recovery, climate change and natural disasters, trade, and military conflicts.
In the opening session, UN Secretary-General Antonio Guterres highlighted the problems that the world community is currently facing, saying that member countries need to increase efforts to find more ways to solve problems peacefully.
He also stressed the importance of using dialogue, negotiation and the use of diplomacy to create peace and stability in the world.
In addition, the UNGA 77 President underlined the need for solutions to surmount global challenges through solidarity, sustainability and science.
The world is currently in a state of urgent humanitarian need, due to climate change, Covid-19, and various conflicts, while hunger levels are rising.
While in New York, Mr Saleumxay and his delegation met with other foreign ministers to discuss cooperation with Laos, as well as regional and international issues of mutual interest.
By Times Reporters
(Latest Update September 23, 2022)