President motivates Xayaboury farmers
President Thongloun Sisoulith and government officials on Wednesday visited farmers in Buamlao and Phakeo villages in Paklai district, Xayaboury province, to encourage them to grow more crops and boost yields.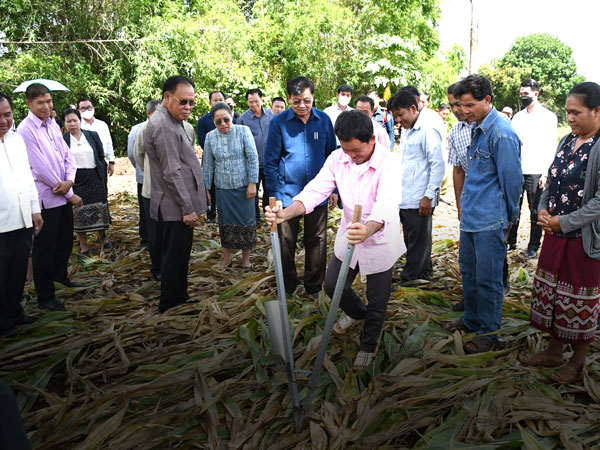 President Thongloun Sisoulith on Wednesday visits a farm in Paklai district, Xayaboury province. --Photo Lao National Radio
The villagers mostly farm cassava and sweetcorn, while some raise cattle and grow grass and other products for sale.

The President and other officials then visited a cassava processing factory run by the Lao Kaona Development Company and a bio-fertiliser plant in Namxong village.
The group was welcomed by the Governor of Xayaboury province, Mr Phongsavanh Sitthavong, Paklai district authorities, local residents, and members of the business community.

Paklai district Governor Mr Kongsy Vongsy reported on aspects of socio-economic development over the first six months of this year.

Revenue earned amounted to more than 4 billion kip, equal to 57.46 of the target figure for the whole year.

Villagers are growing wet season crops on 41,600 hectares of land, including 6,900 hectares of rice. So far, 85 percent of the flatland rice crop has been transplanted, while 100 percent of the upland rice crop has been transplanted.

Crops other than rice are being grown on an area of 34,700 hectares, including 28,500 hectares of cassava, which is grown to supply the nearby tapioca factory. Bananas, Job's tears and other crops are also cultivated.

People are also growing more grass and fodder for their livestock. The district currently has 26 elephants, 27,850 head of cattle, 15,600 buffalo, 27,100 pigs and other animals
.
President Thongloun praised village authorities and farmers for their success, encouraged them to continue to live in harmony and maintain traditional practices, and to produce more crops for processing and sale.
By Times Reporters
(Latest Update August 5, 2022)