60 ancient Buddha images unearthed in Khammuan
Local residents have found about 60 ancient Buddha images in Tham Phapheenoy cave near Khamphalaeng village in Mahaxay district, Khammuan province, which authorities estimate to be hundreds of years old.
An official at the Mahaxay district Information, Culture and Tourism Department, Mr Kaikeo Bounmany, told Vientiane Times the Buddha images were made of Mansonia gagie (a fragrant wood similar to sandalwood).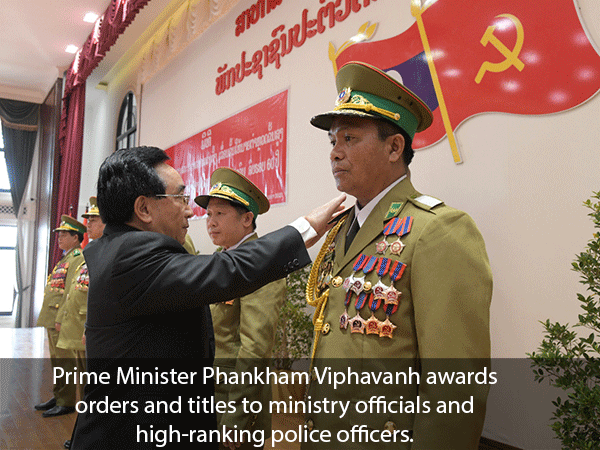 Mahaxay district authorities inspected the statues after receiving reports from local residents. Some of the figurines have deteriorated while about 45 are in reasonable condition.
"The statuettes will be examined by an archaeologist and authorities will provide a detailed report on their findings," Mr Kaikeo said.
Local residents told authorities they wanted to keep the Buddha images in the cave and turn it into a tourist attraction. They would charge visitors to see the statues, which would bring in extra revenue for the community.
"People here have found ancient Buddha images in the past. Most were kept in the place where they were discovered, so that people could go there to worship," Mr Kaikeo said.
The discovery is another addition to Khammuan's multitude of attractions, which bring more and more people to the province each year, with most wanting to explore the natural environment.
With this being Visit Laos-China Year, Khammuan is doing its best to satisfy visitors by ensuring that good quality food is available in restaurants as many Chinese visitors like Lao food, the province's Information, Culture and Tourism Department said.
Tourism entrepreneurs have been trained in customer service as well as advertising and promotion to ensure visitors' expectations are met. Khammuan is one of Laos' most striking provinces.
Its cave complexes such as Tham Nang Aen, Tham Pha Nha, Tham Pha, Tham Konglor and Tham Xebangfay are some of the most exciting in all of Asia.
Sites such as Kamphengyak, which is otherwise known as the Giant Wall, and the Sangsou and Nam Sanam waterfalls, are equally magnificent.
Visitors should also try some of the region's food offerings, such as khaonompaan, which is flour mixed with beans and coconut. Another favourite is khaokhop - a sticky rice cake - and mam, which is pork or beef mixed with onions, chilli and herbs.
Khammuan is also renowned for its souvenirs such as the intricately woven bamboo baskets used to store sticky rice, as well as clothing and other items made from naturally dyed cotton. The province is about 360 km from Vientiane along one of Laos' better stretches of road.
Last year, more than 400,000 people visited the province, the provincial Information, Culture and Tourism Department reported.
Further information about the province's highlights can be obtained from the department by calling 051-213 022.
By Siladda Souliyong
(Latest Update March 19, 2019)