Children raise their profile on national stage

Children from across Laos discussed the problems they face during the course of their life when meeting up for the Lao Children's Forum in Khammuan province.
Topics of discussion included early marriage, unsafe use of social media, road accidents, and the Covid-19 outbreak.
Young students from Vientiane and 17 provinces shared their thoughts on these issues at the forum, which was titled 'Progress in promoting children's rights in Laos'.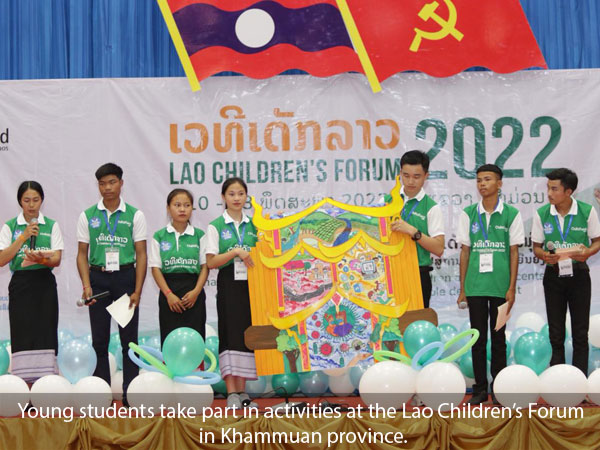 Children and adolescents engaged in joint activities to analyse the problems and find solutions as a group.
Other activities included stage performances, drawing community diagrams, acting as master of ceremonies, creating and editing videos, and writing proposals for small-scale project grants that they will be responsible for implementing.
Mr Saisingkham Itthiphone, a boy from Luang Prabang province, said "I am a shy child. I'm usually afraid of speaking up and do not think I can change the society that I live in or the things that affect my life. But after attending the Lao Children's Forum, I get the feeling felt that everyone is important to the nation and I want all children to use their talents to develop the society in which they live."
Also speaking at the forum, Deputy Governor of Khammuan province and President of the Provincial Commission for the Advancement of Women, Mothers and Children, Mr Keo-Oudone Bouthsingkhone, said the forum was a national platform where children and young people could get involved and put the skills they have learned into practice.
"Setting up this platform builds our human resources, especially leadership skills, and enables the formulation of macro concepts in analysing the causes of problems and solving problems starting from children themselves," he said.
The event was an opportunity for children to show their talents on stage, as well as fulfilling their role as upholders of good culture in preparation for the selection of Lao children to participate in the Asean Children's Forum.
The Asean Children's Forum will be held in Indonesia later this year, and Laos will host the event in 2024.
The Lao Children's Forum is a national forum organised by the National Commission for the Advancement of Women, Mothers and Children in collaboration with the Khammuan Provincial Commission for the Advancement of Women, Mothers and Children, supported by ChildFund in Laos.
The forum is designed to build the capacity of Lao children and give them opportunities to reach their potential as active and responsible citizens who can confidently and safely participate in the decision-making process to address the development of children of all ethnic groups across the country.
By Times Reporters
(Latest Update May 26, 2022)