Covid infections fall in Vientiane
Although the number of new cases of Covid-19 reported in Vientiane has declined, the number in many of the provinces is continuing to rise.
Eight new cases were reported in Vientiane on Tuesday, down from 16 on Monday.
The virus initially spread quickly in Vientiane, totalling 659 cases after a record number of infections were recorded on April 24.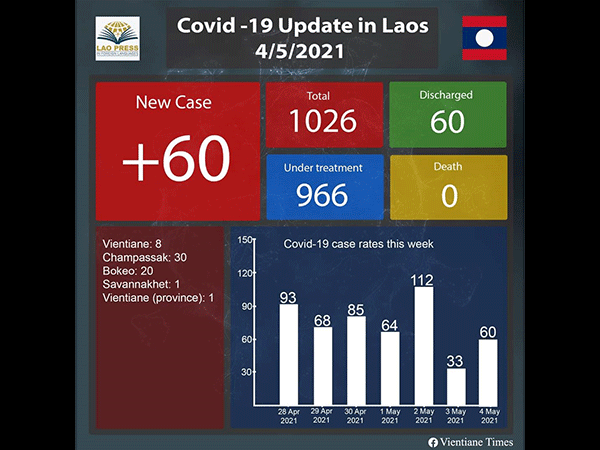 Meanwhile, 60 people have been discharged from hospitals and the total number of active cases now stands at 966.
Sixty new cases were confirmed on Tuesday, bringing the total recorded countrywide to 1,026.
Champassak province has reported 30 new cases, Vientiane eight cases, Bokeo 20, Savannakhet one, and Vientiane province one new case.
Deputy Head of the Vientiane Taskforce for Covid-19 Prevention and Control, Mr Phouvong Vongkhamxay, announced the new figures at a press conference on Tuesday.
He thanked all the individuals and organisations that had made donations and assisted in efforts to control the spread of Covid-19 in the capital.
Mobile testing clinics have been set up at garment factories and other large premises, while more temporary hospitals will be arranged to accommodate Covid patients if necessary.
Vientiane now has 457 police and militia checkpoints. Two internet cafes that broke the lockdown rules have been closed and authorities have impounded 2,951 boats.
Mr Phouvong said authorities are considering stricter lockdown measures to ensure the virus is brought fully under control.
He urged people not to panic and not to spread fake news, saying that everyone should wait for official announcements by authorities or the Covid-19 Taskforce.
He also said there was no need for people to engage in panic buying or to stockpile supplies.
The government has stepped up measures to prevent the spread of Covid-19 as ordered by the Prime Minister's Office after a fresh surge in infections in Thailand, he added.
Everyone is urged to observe social distancing, wash their hands regularly, and wear a face mask when in a crowded place.
By Phetphoxay Sengpaseuth
(Latest Update May 5, 2021)