Govt seeks to overcome economic difficulties
The new cabinet members are discussing five main issues of national importance at the first government meeting under the 9th legislature, which is taking place on April 8 and 9.
Chaired by Prime Minister Phankham Viphavanh, the meeting follows the inaugural session of the National Assembly (NA)'s 9th legislature last month, which approved the organisational structure of the government and elected cabinet members.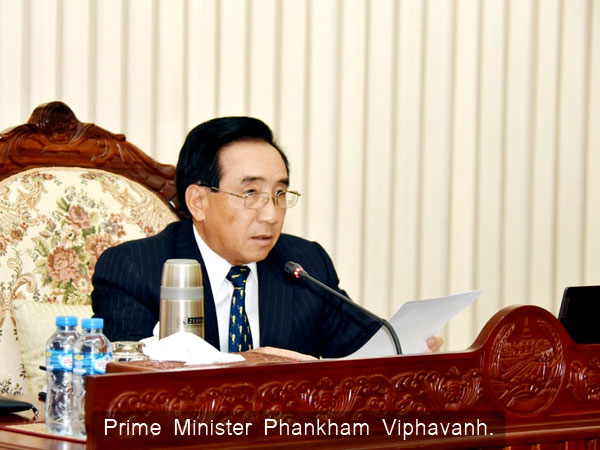 The new cabinet members have taken up office to lead the 17 ministries and two ministry-equivalent organisations (the Prime Minister's Office and the Bank of the Lao PDR).
The meeting will consider and approve a prime minister's decision regarding the areas of responsibility assigned to the prime minister and deputy prime ministers.
The meeting will also consider and approve a draft of the five-year action plan of the new government for 2021-25, regulation and work mechanism of the government, and a draft document regarding the national agenda to address economic and financial difficulties.
Another important document to be endorsed at the meeting is a draft national agenda on the control of drug abuse and trafficking for the period 2021-2025.
Speaking at the meeting on Thursday, Prime Minister Phankham urged cabinet members to shoulder more political responsibility by using their knowledge and dedication in giving opinions and frankly discussing these important issues.
The comprehensive documents and plans will enable government bodies to put the various schemes into practice and fulfil the goals assigned by the nation.
Those present at the meeting were told to ask questions and ensure that the meeting met its objectives and the aspirations of all Lao ethnic groups, who want the new government to be real, honest and diligent and pursue a policy of frugality for the benefit of all citizens.
At the close of the meeting, Party Secretary General and State President Thongloun Sisoulith will offer guidance to help the new government accomplish its goals and enable the nation to overcome the challenges it faces.
The government meeting takes place amid the continuing Covid-19 pandemic and a global economic slowdown.
Laos is vulnerable to global impacts, climate change and natural disasters, the effects of which have been exacerbated by the pandemic, affecting the government's public debt and fiscal deficit.
Over the past five years, the economy has grown at an average annual rate of 5.8 percent, below the target of 7.2 percent.
As the challenges mount, the new government must dedicate all of its knowledge and ability to help the nation overcome economic difficulties.
The government is committed to moving towards sustainable development through the wise use of natural resources wisely and by applying science and technology to the development of the economy.
By Somsack Pongkhao
(Latest Update April 09, 2021)