Govt permits businesses to reopen

The government has given the green light for development projects to resume in order to reduce the impact on the economy, but project and business managers must comply with measures to curb the spread of Covid-19.
Deputy Minister of Planning and Investment Dr Kikeo Chanthaboury, who is a standing member of the taskforce committee in charge of addressing the economic impacts of Covid-19, revealed the move on Friday at the daily media briefing given by the national taskforce committee on prevention and control of the virus.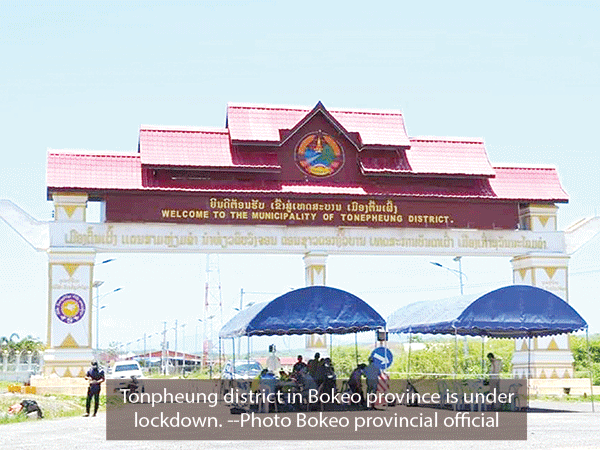 Dr Kikeo said 20 mining projects, 13 electricity projects, railway and expressway projects, 20 factories in the Xaysettha Comprehensive Development Area, nine factories in the Savan-Seno Special Economic Zone, and four factories in the Champassak Special Economic Zone could resume operations.
Their work was put on hold for one month during a lockdown period when many activities throughout the country were suspended to prevent the spread of Covid-19.
"We, the taskforce committee in charge of addressing the economic impact of the virus, have signed memorandums of understanding with these businesses requiring them to comply with the measures laid down by the committee during the course of their operations," Dr Kikeo said.
Referring to a forecast by the National Economic Research Institute and National Statistics Centre, Dr Kikeo said economic growth was predicted at 3.3-3.6 percent this year. This would severely cut the average annual growth rate of 7.2 percent targeted in the current five-year economic development plan, which would now be revised downwards to 5.9 percent.
Tourism, which is the second largest generator of revenue, would be the worst affected sector, he added.
The pandemic will lead to a shortfall in revenue earned by the state through the implementation of policies such as cuts in the taxes and fees paid by people on low incomes.
Employers have been instructed to comply with the Law on Social Insurance regarding the payment of employees who are members of the social insurance fund and have been temporarily laid off.
The government is also looking at how to deal with workers who are not members of the scheme, as specified in the decree on welfare.
During this period of international lockdown, the government is considering the employment of Lao workers returning home from other countries. Following the requisite period of self-isolation, it is possible they could be employed by companies in special economic zones in Laos if they have the appropriate skills.
By Somxay Sengdara
(Latest Update May 12, 2020)