Laos planting 11 million trees for National Arbour Day
Laos plans to plant more than 11 million trees on 10,000 hectares leading up to National Arbor Day on June 1 to restore forest cover to 70 percent of total land area by the end this year.
Deputy Head of Division for Promotion and Forest Restoration, Mr Suraphone Inthavong reported yesterday that areas for tree planting across the country are divided into 2,700 hectares for environmental conservation as well as 7,300 hectares for commercial plantations.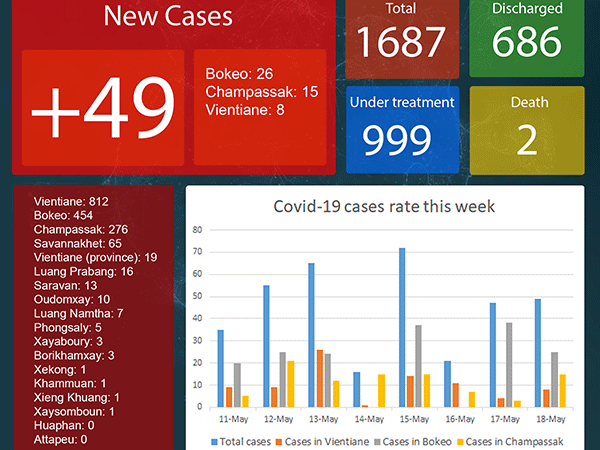 Commercial planting will focus on the provinces of Borikhamxay, Khammuan, Savannakhet, Champassak, and Saravan, with four companies preparing land for plantations.
"The tree planting will also help the government to achieve its target of 400,000 hectares of natural forest restoration by the end of 2020," Mr Suraphone said.
Meanwhile, Forestry Department officials said tree planting would assist in restoring forest cover for many thousands of hectares in the northern provinces of Oudomxay, Luang Namtha, Luang Prabang and Phongsaly which were destroyed by bushfires in April.
The Ministry of Agriculture and Forestry's notice No. 43, issued on May 9, called on all sectors to participate in preparing trees for planting to achieve National Arbour Day targets.
The notice also aims to build awareness among the public, especially young people in ethnic groups, to realise the importance of planting trees in reducing the impacts of climate change which directly relates to their living conditions.
The ministry has stressed that all events to mark Arbour Day must adhere to the government's measures to prevent a recurrence of COVID-19.
The exhibition of tree seedlings must be held in an appropriate place with the number of people attending each activity limited, and celebration ceremonies should be as brief as possible.
The forestry authorities should cooperate with provincial education and sports departments to encourage private and government schools, colleges, and other organisations to hold tree planting activities in their area, especially public parks and along roadsides.
The activities are becoming increasingly important in achieving the nation's forest coverage targets as well as mitigating the effects of climate change and protecting biodiversity.
By Times Reporters
(Latest Update May 20, 2020)