Laos, Japan vow to strengthen cooperative ties
Prime Minister Phankham Viphavanh, in telephone talks with his Japanese counterpart Yoshihide Suga on Wednesday, pledged to further cement political and economic ties for the mutual benefit of both countries.
The two premiers discussed their future cooperation, notably in the areas of national defence, Japanese investment in Laos, and development assistance.
Mr Phankham said he was ready to work with Mr Suga to further strengthen their relations, friendship and traditions of cooperation, as well as advance the strategic partnership between the two countries.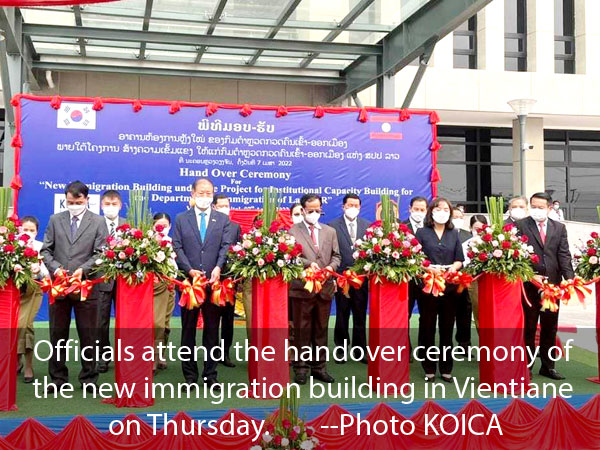 The relationship between Laos and Japan has developed significantly since the two countries elevated their ties to a strategic partnership in 2015.
Laos regards Japan as a key partner based on the long history of friendship and strategic cooperation between the two countries.
During their talks, the two sides expressed satisfied with the celebration of the 65th anniversary of diplomatic relations and 5th anniversary of strategic partnership between the two countries held in 2020. Despite the Covid-19 pandemic, Laos and Japan decided to jointly mark these historic events, which were celebrated with great success.
The two parties also touched upon regional and international issues of mutual interest.
The two prime ministers spoke highly of past bilateral cooperation which has continued to develop since the two nations established diplomatic relations in 1955.
Mr Phankham thanked the government and people of Japan for their assistance to Laos and their contributions to socio economic development.
Japan has helped Laos to respond to the Covid-19 pandemic as well as assist Laos to recover from economic difficulties.
Vientiane Times reported on Laos-Japan growing relations in 2020, noting that Japan continues to be Laos' top aid donor and plays an important part in the international aid provided to Laos. Assistance from Japan averages US$90-US$100 million annually.
In 2017, Japan was the sixth largest foreign direct investor in Laos. As of 2020, some 165 Japanese companies had invested in various areas including agriculture, manufacturing and construction.
Many Japanese companies have invested in special economic zones which creates job opportunities for Lao people.
Japan has contributed significantly to the development of infrastructure, education, health, unexploded ordnance clearance, and community development.
According to the JICA Laos Office, Japan's assistance to Laos began in 1958. The Nam Ngum hydropower plant and water supply facilities in Vientiane, which were funded and constructed by Japan in the 1960s and 1970s, became a cornerstone for subsequent economic development in Laos.
In December 1965, the first Japan Overseas Cooperation Volunteers (JOCV) were dispatched to Laos.
Japan has consistently supported the socio-economic development of Laos as a top development partner, according to the JICA Laos Office.
By Times Reporters
(Latest Update April 08, 2021)