Laos, Vietnam ink 14 agreements to strengthen ties

Laos and Vietnam signed 14 cooperation agreements during an official goodwill visit to Laos by the President of the Socialist Republic of Vietnam Nguyen Xuan Phuc on Monday.
The agreements were signed at the Presidential Palace in Vientiane, witnessed by President Nguyen Xuan Phuc and Party Secretary General and President of Laos, Mr Thongloun Sisoulith.
Seven of the agreements concerned government cooperation and comprised the construction of an army cultural school for ethnic people, rescue cooperation, supplementary cooperation plan for 2020 between the public security ministries of the two countries, cooperation agreement for 2021-2025 between the presidential offices of Laos and Vietnam, cooperation plan for 2022 on laws and justice, agreement on efforts to counter the drug trade, and a cooperation agreement between Xaysomboun province and a province in Vietnam.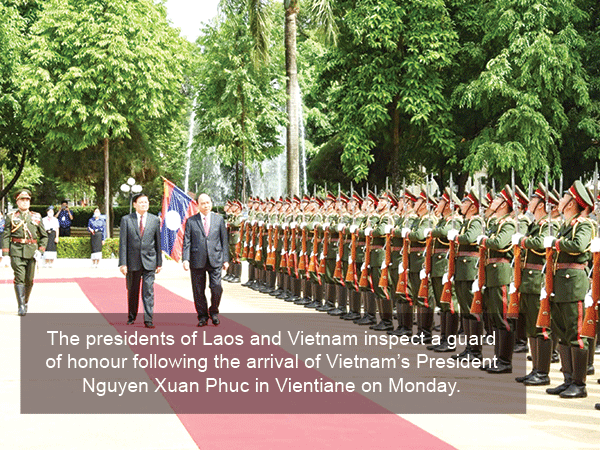 Other agreements concerned the private sector and included a mining concession in Borikhamxay province, lead survey in Borikhamxay province's Pakkading district, a Memorandum of Understanding on hydropower development on the Ma River in Huaphan province, agreement to buy electricity from the Nam Ou and Nam Ngum 4 dams, and other electricity purchasing and mining agreements.
This was the first official overseas visit by Mr Phuc since he became President of Vietnam. It is also the first time this year that Laos has received a head of state from a foreign country.
Following his arrival in Vientiane, Mr Phuc was warmly welcomed by Lao leaders. During their meeting, the two presidents agreed to deepen the relations, friendship, special solidarity and comprehensive cooperation between the two countries.
They agreed to more exchange visits by high-level delegations and to push for the implementation of programmes and agreements signed by the two countries.
The two leaders agreed it was important to place more emphasis on national defence and public security to counter challenges and facilitate development.
The two presidents agreed with proposals made by various sectors in Laos and Vietnam to strengthen collaboration in infrastructure connectivity, tourism, energy cooperation and clean agriculture, which will strengthen the foundations for driving economic growth in Laos and Vietnam.
The two sides also touched upon issues relating to the Vientiane-Hanoi expressway, the upgrade of Road No. 8, Vientiane-Vung Ang railway, Vung Ang seaport, Nongkhang airport in Huaphan province, and electricity purchasing schemes. Mr Thongloun thanked Vietnam for its support for Laos during a time of economic difficulty, particularly the provision of medical equipment and specialists to help Laos' response to the Covid-19 outbreak. Vietnam also agreed to fund the construction of a vocational school in Nongbok district, Khammuan province, at a cost of US$5 million.
The Vietnamese president also met with Prime Minister Phankham Viphavanh to further discuss cooperation.

President Nguyen Xuan Phuc's official friendly visit to Laos from August 9-10 further deepens the great friendship, special solidarity, and comprehensive cooperation between the two countries.




By Times Reporters
(Latest Update August 10, 2021)