Massive drug stash uncovered in Bokeo
Bokeo police on Wednesday made a breakthrough in uncovering a huge stockpile of drugs, including more than 55 million amphetamine tablets.
The discovery began when police stopped a truck carrying crates of beer and discovered 10 million amphetamine tablets hidden inside.
The driver was detained for questioning and told police he had picked up the beer in Huayxai district for delivery to Vientiane but had no idea that the truck was carrying an illicit cargo.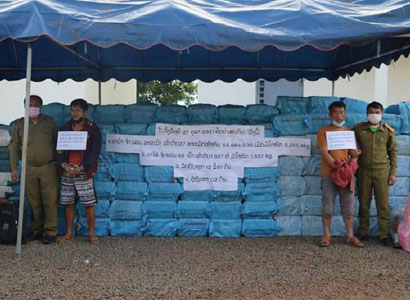 Bokeo police parade arrested men and the huge stash of drugs found in the vehicle they were driving and the house that was raided.
During their search of the vehicle, police found 50 bags containing 10 million amphetamine tablets. Acting on information supplied by the truck driver, police raided a house in the area and detained another man.
During the raid, police found many bags of amphetamine and crystal methamphetamine.
After detained two men, police seized 262 sacks containing 55,664,000 amphetamine tablets and 65 bags of crystal methamphetamine(ice).
Police impounded the 12-wheel truck and some guns found at the house. The two men remain in custody while police continue their investigations into the case.
The source of the drugs remains unknown.
Lao Brewery Company Co., Ltd. on Wednesday issued a statement saying the company was in no way involved in drug trafficking in Bokeo province.
"The company adheres to strict anti-drug-smuggling policies and we are deeply disappointed that our crates have been abused as a cover for illegal activities and will not hesitate to take immediate legal action towards anyone misusing our company assets," the statement read.
"We have confirmed that the truck in question is not registered to Lao Brewery Company Co., Ltd. nor to our external contracted logistics partner, nor to any of our distributors."
In another drug haul in Bokeo, police found 6 million amphetamine tablets hidden in a pick-up truck that was driving through Tonpheung district on Monday.
They stopped the pick-up after being informed by a local resident that a vehicle carrying a large load of drugs would be travelling between Tonpheung and Huayxai districts.
When police approached the vehicles, one of them drove off at high speed while the second parked 50-60 metres away and the driver fled. Police searched the parked pick-up and found 30 bags containing 6 million amphetamine tablets.
| | |
| --- | --- |
| | |
By Times Reporters
(Latest Update October 28, 2021)