New cave discovered in Vientiane province will not be open to the public
Meuangfeuang district authorities are not allowing the public to enter a newly discovered cave in the district's Non Hinhae village until proper facilities have been provided at some time in the future.
The cave in Vientiane province has been named Tham Phaluang and is located within a saltpeter concession.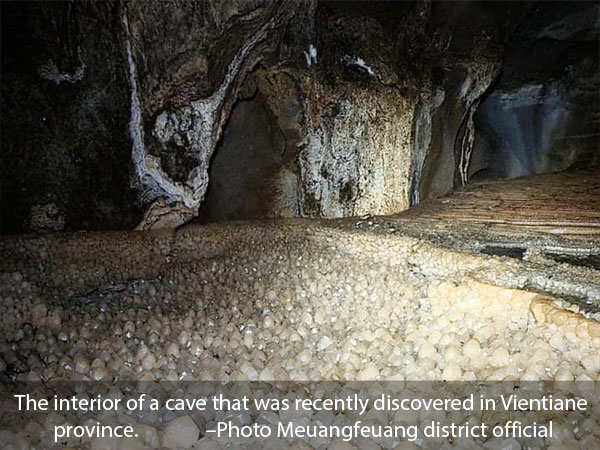 The cave is about 25 metres wide and 60 metres long and contains a pool about 6 metres wide.
District officials have surveyed the site and authorised Non Hinhae village and the owner of the saltpeter concession to manage and protect the cave.
No one will be allowed inside the cave unless given permission to do so by district authorities until suitable facilities have been installed.
However, district authorities still do not have a plan to turn the cave into a tourist attraction, according to the Meuangfeuang district information, culture and tourism office.
Meuangfeuang district is very fertile and is popular with visitors thanks to the idyllic Don Kang beach on the Nam Lik River, where kayaking and rafting can be enjoyed in a welcome respite from the heat, while visitors can also eat tasty local food and while away time in huts by the river.
Don Kang beach is 5km from the main town in Meuangfeuang district and can be accessed by road, and is within fairly easy reach of Vientiane.
Beside the tourist sites in Meuangfeuang district, Vientiane province also has interesting sites in other districts including kayaking, tubing and speed-boating in Vangvieng district.
There are also zip-lines, the enticing Chang and Poukham caves, and the clear mountain water creates lagoons and the Kaeng Nyui waterfall.
More than 2,600 people, both Lao and foreign, visited Vangvieng district last month, spending more than one billion kip, according to the district's information, culture and tourism office.
Vangvieng is within easy reach of Vientiane city and travel time is now about 90 minutes on the Vientiane-Vangvieng expressway and also can travel by Laos-China railway service.
By Times Reporters
(Latest Update January 28, 2022)