German children learn about farmwork.
German visitors experience a different side of Laos
Vientiane Times is publishing a series of articles in relation to Laos' Asean Chairmanship, the Asean Tourism Forum, and Visit Laos Year, all taking place in 2024.

A German family recently enjoyed a wonderful trip in Laos, including taking part in events organised by a reading project run by the non-profit organisation Reading Elephant Laos, which provided many educational and interesting activities both for themselves and for local children.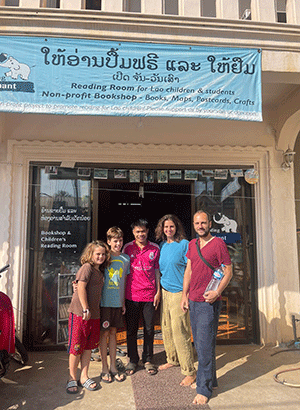 A German family visits the Reading Elephant Laos reading room in Huayxai, Bokeo province.
Julia and her son listen as a storybook is read to a group of schoolchildren.
The German couple and their two sons aged 9 and 12 spent three weeks in Laos, with the aim of educating themselves about life in a developing country.
The family travelled to the provinces of Vientiane, Luang Prabang, Oudomxay, Luang Nantha and Bokeo. The trip was a huge adventure as they were able to witness the traditional Boat Racing and Buddhist End of Lent festivals.
Parents Julia Kremling and Till Rosemann told this Vientiane Times reporter that it was their first visit to Laos and they found the country to be beautiful and peaceful, with lots of friendly people.
They enjoyed visiting Vientiane and its places of interest, especially the Cooperative Orthotic and Prosthetic Enterprise (COPE) visitor centre, which displays information about the Indochina War in Laos and the devastating effects of the unexploded bombs that remain littered around the country.
They also enjoyed strolling through night market close to the Mekong River.
Luang Prabang was a highlight because of its many temples and historical associations. They visited Kuangsi waterfall and the Mandalao elephant conservation centre, where the boys were able to touch and feed elephants.
In Oudomxay and Luang Namtha provinces, they trekked through valleys and went kayaking in a protected forest area, learning a great deal about the lifestyle of the remote communities they passed through. "Our highlights of the trip though were the tours to the villages Chom Ong and Nalan and experience there the real life of Laos villagers", Julia emphasised, "This actually is the great advantage of Laos tourism: the possibility to interact on the personal level. The ecotourism projects are a perfect base for that and the local guide system also."
"Some people say that families in rural areas are to be pitied because they are so poor, but from what we saw these people are strong and able to survive by sourcing food from nature and they seem to be very happy with their lives," Till observed.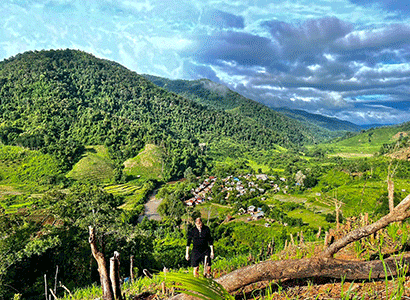 A village in a valley in the Nam Ha protected area in Luang Namtha province.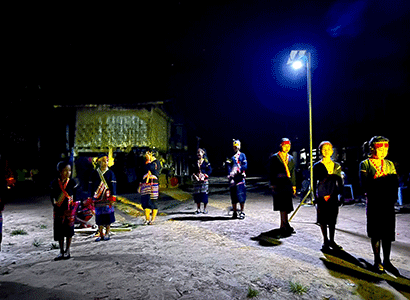 Members of a local ethnic group stage a performance in Nalan village in the Nam Ha protected area.
However, the most touching and unforgettable experience was when they took part in activities run by a children's educational project in Huayxai district, Bokeo province. One morning they visited a primary school about 40 kilometres from the main town in the district. This school has about 60 students and four teachers. There is no library or reading room and there are no story books, only textbooks. This is normal in Lao primary schools and most don't have reading rooms, especially in remote areas.
When the family arrived at the school at about 9am, the schoolchildren were lined up in anticipation of their visit, with smiles on their faces and ready to share in fun activities. This was the fourth visit by Reading Elephant Laos staff to the school so they knew they would enjoy the occasion.
The children were divided into groups and played games and sang songs. Then they sat down on mats under a shady tree and listened as stories were read to them.
The children were very interested and mostly listened quietly as they concentrated on the unfolding tale, but sometimes they broke into laughter and chattered loudly, especially when the storyteller asked them questions about the story. At the end of each story, the reader asked the children what the book was about and what they derived from the story.
Project staff then produced lots of free storybooks for the children, which they happily ran to pick up and choose one to read by themselves. Afterwards they swapped books and carried on reading.
The teachers helped the children because many of them couldn't read, even though all the books were written in Lao.
The visiting German family and project staff then joined the children in drawing pictures about what they had read in the books.
Julia is an art teacher at a Montessori school in Germany and had the idea of pinning large sheets of paper on the school wall, which the children then used charcoal to draw on. Most of the images they produced reflected the stories they had just heard, indicating that they enjoyed the stories and remembered what they were about.
The project team and the visiting family then donated learning materials and footballs to the children.
Julia said the family chose to visit Laos because they wanted to exchange with the local experts on education. They are doing a great job and the two boys should experience something completely different to what they know from Germany. When planning their holiday they discussed possible destinations with their friends, who suggested they visit Laos. The family felt their three weeks in the country had been a truly wonderful experience as they had learnt so much about their way of life as well as travelling through majestic landscapes.
The Lao government is anticipating the arrival of 400,000 to 800,000 foreign visitors this month and next, which will bring the total number of foreign visitors this year to 2.9 million or 3.3 million. During Visit Laos Year 2024, the government hopes to attract at least 2.7 million foreign tourists, generating revenue of about US$401 million, while in 2025 tourist arrivals are forecast to reach 2.9 million and generate income of US$434 million.
The official opening of the tourism promotion campaign Visit Laos Year 2024 will take place in Vientiane on November 23 at the That Luang stupa esplanade.
Laos has hosted three previous Visit Laos Years, first in 1999-2000, then in 2012, and again in 2018. Next year will be the fourth time we are rolling out a countrywide tourism promotion campaign.
By Patithin Phetmeuangphuan
(Latest Update November 21, 2023)