How important is nutrition promotion for children, mothers in Huaphan?
The Partnership for Improved Nutrition (PIN) is a vast EU initiative under which several partnerships have been formed. The PIN partnership with UNICEF started in July 2016. The project has nationwide coverage and targets 10 provinces in Laos. A delegation from the EU and UNICEF last week made a joint visit to Huaphan province with the aim of observing nutritional interventions under the PIN. A Vientiane Times reporter asked some delegates, local authorities and people for their thoughts on the importance of nutrition promotion for the children and mothers in the province.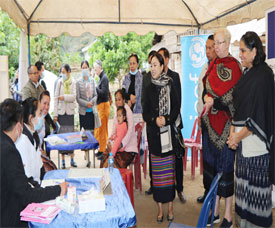 EU and UNICEF delegation observes nutrition interventions in Nathaen village, Viengxay district.
Ms Ina Marčiulionytė, the European Union Ambassador to the Lao PDR: Nutrition is very important for children and mothers. We do understand that because the first 1,000 days are the most important for the development of a child. We want everyone to know that the child is developing. So it's very important to have a child eating well and beneficial food. With good nutrition, the child will be safe, strong and clever while they are small. And of course nutrition is very important for the development of the babies that is why we emphasise the nutrition with the child since very early age, we also emphasise the nutrition of the mother as well because it makes the mother healthy as well. Mothers are very important for the babies, we also educate mothers with breastfeeding. It's also very important to give good food to the baby besides mother's milk. So mothers should know how to cook, how to look after the children and make sure that they are really growing healthy. We are very happy to see how well the project is being implemented in Huaphan province. Under the PIN umbrella initiative, the EU in partnership with UNICEF, the Government and civil society and others, are supporting the scale up of nutrition interventions focusing on multisectoral coordination, programme implementation, evidence gathereing, awareness raising and institutional capacity enhancement. This visit to Huaphan province has enabled us to witness first-hand some of the activities currently being implemented under PIN in the province to improve the nutritional status of women and children and provided us with the opportunity to assess what can be done to further improve the nutritional situation in the country. We are also grateful that our partnership with UNICEF is bringing good results and that we are working together because we are funding agencies, implementing agencies and connecting with different partners and also with local and provincial authorities and we understand that no one could be implementing those projects alone. We need everyone to put their hands together and then we will get good results.

Dr Pia Rebello Britto, UNICEF Representative: Proper nutrition during the first 1,000 days influences a child's ability to grow, learn and succeed. The Partnership for Improved Nutrition, is helping to take advantage of this window of opportunity and has contributed to achieve important results in line with the eighth National Socio-Economic Development Plan. It is uplifting to see that Huaphan province has made great strides in combating the rates of stunting among children in the past few years. However, there is still much more that we can still do to ensure that children in Huaphan receive the nutritious diets, services and care that is so critical to their growth and their ability to realise their potential. It's a great pleasure to be here today at Nathaen village Viengxay district, because while here, we have a chance to look at the outreach programme that is being provided to the beautiful children and families of this village. In Huaphan province, many children do not have access to good nutrition when they are young in life and that can have a very strong impact on their physical and mental growth. Nutrition affects the body and the brain of the babies, when the babies receive good nutrition, good diet, good care then the babies can grow well. We at UNICEF, are so pleased to partner with the European Union under the leadership of the provincial government to provide services that provide families with positive nutritional behaviors and a healthy diet. It means that we give young children the best start in life, today. Young children are the heart of this country and good nutrition is very important for them.

Dr Vilaphone Phomvongsy, the Director of Huaphan provincial Department of Health: Nutrition promotion is very important for children and mothers in our province because it makes them healthier than before. Good nutrition also makes the number of malnutrition and stunting to decrease. Now people in the target villages have more knowledge about nutrition and health care. Children are healthy and strong and mothers realise the benifits of breastfeeding. Thd European Union and UNICEF have supported nutrition promotion in our province with both funds and technical assistance and activities and tasks are implemented by our local officials.

Mr Pemkham Kuangmanivan, the chief of Nathaen village, Viengxay district: It's very good that the EU and UNICEF have supported nutrition in our village. Now people in the village understand about nutrition more than they did before. People enjoy taking part in all activities including vaccination against diseases for children and mothers. There are many new developments for people living here such as pregnant women have stomach checks with doctors, couples have family planning, sanitation education, and advice following the birth of babies.

Ms Phonexay Keosouvan, a village volunteer in Nathaen village, Viengxay district: Nutrition promotion is very beneficial for people in our village. Our village voluntary committee has campaigned villagers to take part in the nutrition promotion and other hygiene activities such asking pregnant women to check their stomach's when they get pregnant and give birth in hospital, having children of this age access to medicine and vaccination services and measuring the weight and height. Now the mothers have more knowledge about the right way of feeding the babies especially breastfeeding.

Mr Aiy, a resident of Nathaen village, Viengxay district: I think, the nutrition promotion is very good for villagers in my village. Now people especially the mothers have basic knowledge about nutrition and they feed their babies in the right methods but in the past they didn't know about this. People also see the importance of health care, hygiene and sanitation. The village is more developed, cleaner and people are healthier. The families have clean water and toilet facilities. Villagers have changed their behaviour on living and eating. I would like to thank the European Union and UNICEF supporting the nutrition and other project's in our province especially in my village and I would like them to continue to support this project.
By Visith Teppalath
(Latest Update April 2, 2021)