What more should we do to protect intellectual property?
Lao people make many kinds of items, especially using indigenous knowledge not found in other countries.
But most of these products have not been copyrighted or given a trademark, especially handicrafts. This has led to numerous instances of product copying and the true inventors of these products are not recognised. Vientiane Times asked for people's thoughts on ways to better protect intellectual property.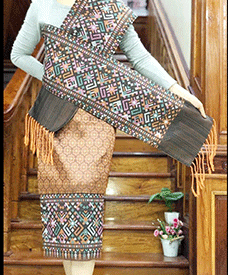 These garments have been machine-produced but imitate traditional hand-made Lao designs and can be sold more cheaply.
Mr Khuanchai Manyvong, a resident of Xaythany district, Vientiane: In my opinion it's necessary to copyright Lao-made products and ensure the creators are acknowledged and their work protected, so that copying their products is illegal. If other people make imitation products for market distribution, they should be penalised under copyright law. We must do everything we can to support and promote Lao products by using handmade items.

Ms Saengping Souliya, a student at the National University of Laos: The recognition of intellectual property rights is important for business, as without the protection of ideas, businesses and individuals would not reap the full benefits of their inventions. If you have a great idea for a product or service, you can use patents, trademarks and copyright to prevent competitors or others from using your idea without your permission.

Ms Saysouda Bounmexay, an official in Xaythany district, Vientiane: I think that all handicrafts made in Laos should be registered and the authorities should strengthen measures and legislation to protect cultural and intellectual property. To support the makers of handicrafts, the relevant units should find markets for them, and provide them with funding and other resources to help preserve Lao culture and products.

Mr Souvanhny Banchong a resident of Xaythany district, Vientiane: The concept of intellectual property is important because it means that people's ideas, knowledge and creativity are protected and their products should be registered. To prevent Lao handicrafts being copied, producers need to provide full details of their products and ensure they are unique in Laos. I think it's important to convince young people of the value of locally-made items so that they come to appreciate them and use more of them to support Lao handicraft makers. And this would increase the income earned from the sale of such products.

Ms Toun Sirichak a resident of Chanthabouly district, Vientiane: I think that to protect cultural and intellectual property rights we should register products made in Laos to demonstrate ownership. There should be regular inspections of markets and factories and if imitation products are found, the vendor should be fined or otherwise penalised. To support the makers of Lao handicrafts, we should not use imitation products, but should make sure we buy genuine items.

Mr Chanthanongsing Phimmaseng, a student at the National University of Laos: I think cultural and intellectual property rights are very important nowadays and we should formulate a policy that protects these rights so that Lao-made goods are not copied and passed off as the invention of someone else. Copying others' products or ideas is immoral. It takes a lot of hard work to create something. To prevent this happening, production needs to be regulated. The best way to support Lao made products is to buy and use only things we know have been made in Laos, which will inspire people to continue their work while also boosting their income.
By Vithaya & Maniyadfa
(Latest Update March 31, 2021)