How should we use electricity safely in hot weather?

With the hot weather upon us electricity usage has increased rapidly as more fans, refrigerators and air conditioners work harder to keep us cool. Many people are concerned there won't be enough electricity to go round, and of course there's a high risk of short circuits. Vientiane Times asked a few people for their thoughts on the best ways to save electricity and prevent accidents.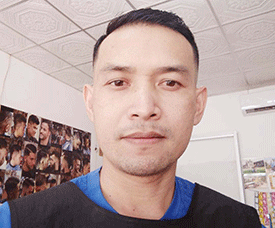 Mr Ai, a resident of Xaythany district, Vientiane: The weather is very hot now so I think we should be very careful when using electrical appliances. And to save power, we should consider how much electricity we may be using and do so safely. Overloading circuits in hot weather can increase the risk of fire. One simple idea is to unplug devices when we're not using them, as this can help reduce risks and save us money.

Ms Inthila Bounthachit, a resident of Luang Prabang city: As you know the weather is very hot right now so people are using a lot of electricity because air conditioners, fans and refrigerators are turned up high. To prevent fires, we should be careful and think about the appliances we are using. We should turn things off when we go out and always keep an eye on electrical systems. In addition to saving electricity, it also helps prevent fires.
Mr Keonikone Mahachaleun a resident of Xaythany district, Vientiane: I always use a fan instead of air conditioning and open all the windows to draw off the air. Sometimes I go to the riverbank or sit under big trees rather than stay at home in the afternoons. To prevent fires, I think the best way is to buy high quality appliances and avoid using cheap and poor quality products. We should think about the appliances we are using and make sure we use them in the right way and not overload them. This way, they will last longer as well as helping us to save energy.
Ms Khampheng, a resident of Champassak province: There are problems with electricity in my house in the hot season and we have a lot of blackouts. Some people don't use electricity carefully and are unaware of the risks they run. Electricity has both advantages and disadvantages, so we must be careful with its use. The authorities should advise people how to use electricity wisely. Energy providers should ensure that power is always available and should have a rapid response team that can tackle problems quickly.

Mr Soukthavy Chanthavong, a resident of Chanthabouly district, Vientiane: If we want to save electricity and prevent fires, I think we have to start with ourselves. First of all, we should turn off any unnecessary appliances and secondly we should install a safety cut-out off switch to prevent overloading. Third, we should keep an eye on all electrical sockets and lights and change them if necessary. The last person to leave an office or house should make sure they turn everything off before going out the door. And with appliances or systems that are used for one to two hours, we should turn them off for 15-20 minutes.

Mr Lutsia Phalyxaysongkham a student in Xaythany district, Vientiane: We should be extra careful when using electrical appliances in hot weather and try not to use them continuously for a long time. For example, it's best not to keep a fan switched on all day long and when we turn a fan off we should unplug it. That goes for other electrical devices as well, such as irons. We should consider energy use and try not to be wasteful. If there is only one person in a room, it's not necessary to have both a fan and air-conditioner running. And when we go out, we should make sure we turn everything off.
By Vithaya & Maniyadfa
(Latest Update March 30, 2021)