How can we respond to appeals for help during the Covid-19 outbreak?
Everyone needs to pull together to ensure that we get through this crisis as best we can. Some businesses and individuals have already donated money, food and medical supplies to support those in need. Vientiane Times asked members of the public what they are doing to help in this time of hardship.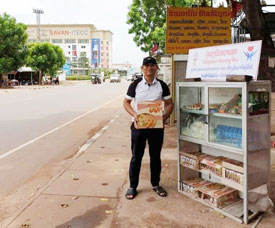 Mr Bounthavy Thongkham, a businessman in Savannakhet province: Normally, I like to help by using my own money and raising money to donate to people in need, such as the victims of disasters and people in remote areas. Last year during the Covid-19 pandemic I donated some medical equipment to health authorities and created a sharing box project. Now I and my friends are continuing this project so that we can help more people during these difficult times. However, I would like to ask those who receive donations to also consider other people in need, as many more also need help. It's important that we all share what we have. In addition, I call on everyone who can to donate as much as possible. This not only helps others but also makes us happy, proud and earn merit.

Ms Lattana, an employee in Naxaithong district, Vientiane: I have donated to a project that is supporting the response to Covid-19 and hope that my small contribution will help support authorities' efforts to fight the virus. I urge members of the public to donate what they can to help stop the spread of the virus.

Ms Khamphout, a resident of Sikhottabong district, Vientiane: I would like to do more to help but I don't have much money. Right now I'm concerned about keeping myself and my family safe. If we stay healthy it means we will not place a greater burden on medical staff and others who are working to tackle the Covid outbreak. If we can't donate, the least we can do is not cause problems. Everyone should strictly obey the rules laid down by the government.

Ms Siphone, an official in Xaysettha district, Vientiane: Of course, in this situation we should do everything we can to fight this virus war. Last year most people suffered financially and it's harder than ever to earn money and many people are unemployed. The current situation makes things even harder for everyone. But I urge people to be sympathetic and not to be selfish. For instance, vendors should not stockpile goods. Instead, it would be better if they donated some to those in need. If we don't have much money to donate, we should at least listen to the advice of medical experts and follow their instructions. It is our responsibility to help prevent the spread of the virus.

Ms Tee, a resident of Xaythany district, Vientiane: I think it's essential that we all join hands to try to resolve the problems we're facing. I have donated some food and essential supplies to other people in my village. Even if it's not much, it's better than doing nothing. To get through this crisis, we must all help each other and share what we have.
By Lamphone Pasanthong
(Latest Update April 30, 2021)