How should we celebrate Lao New Year joyfully and safely?
The authorities have called on everyone to celebrate Lao New Year in the traditional way but to avoid public gatherings, take precautions, and limit events to private homes. There is also a ban on drunk driving to ensure safety on the roads. Vientiane Times asked members of the public how they planned to celebrate the occasion.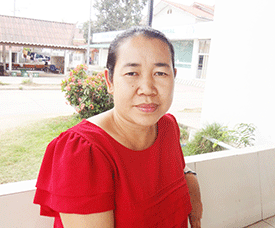 Ms Chansy Netthavong, a resident of Vientiane province: I hope to have some fun this year after being in lockdown for Pi Mai Lao last year. But I have heard the news that two more people have just tested positive for Covid-19. We have to be aware of the importance of protecting our lives instead of just having fun. In my view, it's good if people don't hold large parties and elaborate rituals. And it's even better if people don't drink and drive, as this is a major cause of accidents. We may not have as much fun as usual this year, but there are plenty of happy times to be enjoyed.

Ms Khonsavan Xaysongkharm, an employee in Savanakhet province: Lao New Year is a time when people drink and play loud music, both during the day and at night. It's not much fun for people who aren't interested in drinking but unfortunately this is part of Lao culture and it's what everyone does. In my opinion the best way to celebrate is to have a nice time with everyone in the family spending time together and cooking food for friends and family. Young people will sprinkle water on Buddha images and their older relatives to make good wishes and bring good fortune. And they will visit temples and take part in other traditional events. I know that everyone wants to party with lots of people but we should be considerate and responsible and follow the rules set by the authorities to prevent any unwanted incidents.

Ms Noy Soyee, a resident of Xayaboury province: To avoid running the risk of a car accident or getting Covid-19, I will celebrate Pi Mai Lao at home. I will go to the temple in my village, pour water on Buddha statues and visit my elderly relatives. But I will take care to protect myself and observe social distancing norms. I also want to save money because in previous years I had to pay a lot for electricity and water bills and other things after the celebrations.
Ms Amphone, a resident of Xaysomboun province: Pi Mai Lao is a time for families and the observation of traditional rituals such as pouring perfumed water on Buddha statues in our homes and asking for forgiveness from our older relatives.
It's good that the authorities are working to help and protect people by setting price caps on certain food items and trying to curb drunk driving. They are also trying to ensure that people celebrate Lao New Year in the right way while staying safe from the coronavirus. The police and village security personnel are trying to stop people gathering in large groups to drink. But I've seen many people disobeying the social distancing measures recommended by authorities. It would be good if everyone were more considerate about safety measures.
Mr Souvanny Banchong, a student at the National University of Laos: The government has advised everyone to downsize the celebrations this year, but I think Pi Mai Lao will be more enjoyable than last year. Normally, I spend time with my family during the holiday and travel somewhere with them. This year I also plan to be with my family and take part in all the traditional activities like watering Buddha images and dribbling water over our older relatives. After that we'll have a small party and take some family pictures, and generally spend a happy time together. I think everyone should make sure Pi Mai Lao is joyful by not driving after drinking and staying safe from Covid-19 by avoiding crowded places where lots of people are celebrating.
By Lamphone Pasanthong
(Latest Update April 13, 2021)