How should people be more aware on protecting intellectual property?

Today is marked as World Intellectual Property Day (April 26). Many activities are being organised to celebrate this occasion and members of the public enjoy taking part in the activities. Vientiane Times asked some people for their thoughts on the ways for more protection of intellectual properties.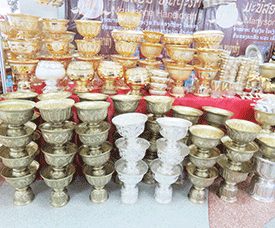 Bowls made of silver and copper.
Mr Khampasong Mingsmone, a resident of Chanthabouly district, Vientiane: I think, in the past Lao people weren't very aware of intellectual property protection yet, because they were not well educated on this issue. Some producers didn't have their products copyrighted or trademarked. And some people illegally copied the products of others, but they didn't know that what they're doing was illegal. People liked to copy products such as books and CDs. As we know that it is not easy to create something or get an idea, and many people use much time and money create intellectual property. So, producers should copyright and trademark their work, to legally protect their rights and products. If producers don't copyright or trademark their work, their products can be copied easily and those who copy cannot be considered guilty. Of course, people who break the rules and copy the products of others can be punished according to the law. However, it is good that now the members of the public in Laos tend to be more aware on this issue because authorities provide them more information about it and our country has the law on intellectual property already.
Ms Bountome Hongvilay, a resident of Sangthong district, Vientiane: Organising activities to mark the World Intellectual Property Day is a good idea as it might help to educate the public about intellectual property protection and help people to learn more about this. My family has produced handicrafts for many years. Our handicraft product is produced from our folk wisdom. Not only my family, many families in many provinces produce handicrafts too, but our products still haven't been registered by the government and it isn't easy to get registered because it takes time and many steps. So I would like to ask the government to help with this issue, because it will help to protect our intellectual property and other people will not copy it. It's a good thing for our products to receive registry because customers will accept our product more willingly and protect it from being copied by others. For raising more awareness of the public to see the importance of this issue, there should be more campaigning and advertising about intellectual property rights to teach people about these issues. There should be education about this for people of all ages, especially schoolchildren, so they learn the rights and wrongs at a young age.
Ms Khamphay Phetphayvan, a handicraft producer of Xieng Khuang provice: It is good to organise activities marking the celebration for the World Intellectual Property Day in Laos. Celebrating this day around the world would help to promote awareness and expand the influence of intellectual property across the world, it encourages countries to publicise intellectual property protection laws and regulations, and enhances public awareness of intellectual property rights. It is very important to be aware of this because it is good for both producers and consumers. Lao people should inquire more about this issue. I represent the One District, One Product scheme in my province to take part in exhibitions in Vientiane and other provinces. My products are copyrighted and protected now. It means that the products are safe and nobody can copy it illegally. Otherwise, it's very import for Lao people to learn more about this issue so that we know what other countries practice, so that our products will be protected too. Lao people should become more aware of intellectual property protection as it's an important part of regional and global integration.
Ms Leda, a resident of Savannakhet province: It is very good that Lao people can now make a lot more products than before and quality and the standard of our products are as high as in other countries. So it's the right time to raise society's awareness. Intellectual property protection seems like a new thing to people. Many don't understand this issue and need more information about it. It is not good that most people don't talk about protecting their products rights, maybe because they don't know enough about it and don't understand what it means. They should understand more about the law on copyrights and trademarks, or the effects of illegally copying things. More information should be distributed to the public so people can learn the importance of copyright and trademark protection, the laws, and how people lose out when their work is illegally copied. If they knew more about it, people might refrain from copying products.
By Visith Teppalath
(Latest Update April 26, 2021)