How important is it for food products to be copyrighted and branded?
More than 100 food producers from across the country exhibited their signature products at the Lao Food Festival 2021, which was recently held at Chao Anouvong Park in Vientiane. Many of them said they want their products to be copyrighted so that they can build their brands in order to expand to new markets. Vientiane Times went to the event and asked some exhibitors for their thoughts on this matter.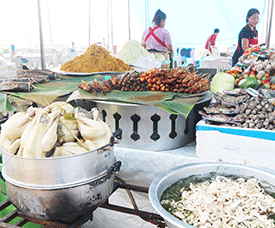 Chicken soup and other food items.
Ms Van Phetkhambay, an exhibitor from Savannakhet province: I'm very happy to represent my province by exhibiting food products at this event. I think it's very important to have my food products copyrighted because it will help to protect my products from people who could copy my recipes. Having the products branded would also help to convince buyers of the quality and standard of my traditional food. I have made and sold traditional food for more than 10 years. I love cooking and have many kinds of traditional items made of pork and beef. The sausages and Xinsavanh are very popular. I also focus on providing clean and good quality products. I am trying to get my products to have copyrights but it needs time because there are many rules and steps to be followed.
Mr Bounlot, an exhibitor from Savannakhet province: I produce many kinds of traditional food items made of beef and pork, including dried meat and sausages, which are the signature items of Savannakhet province and they are different from the products of other provinces. My food items have a specific taste. Some of my food products are registered under ODOP (One District One Product scheme) and this helps to protect my brand. It also indicates the quality and standard of my products. I want more, or if possible, all of my products to have ODOP registration or copyright authorisation. However, it isn't easy to get this because there are many steps and rules to follow. If possible, I want the government or the responsible sector to help provide more facilities to producers to help with this matter.

Ms Phaksavanh Philavong, an exhibitor from Luang Prabang province: Just like the other producers, I want my products to be copyrighted and also to have a brand if possible. Now I have got only ODOP authorisation, and I will try to get a brand because it will help me to find new and larger markets. I want to protect my products from being copied by other people. I also want to have my food recipes branded and sold in other countries.
Ms Tameo Boubphavong, an exhibitor from Champassak province: It's necessary to get our food products copyrighted and to get brands because this will help to promote and preserve our traditional recipes. It will also be safer for consumers. Some of my products have got ODOP authorisation. Of course, I want more of them to be copyrighted and branded. The copyright and brand will help vendors reach a larger market and we can then sell our products inside and outside the county.

Mr Khamlar, an exhibitor from Vientiane: I think having copyrights for food products will help protect signature items, especially my local traditional food, and creating a brand will help me to expand my marketing network. I am trying to get copyrights and a brand. Having copyrights and brands will also help to upgrade and guarantee the quality and standard of food products. I have already had some of the products authorised as ODOP, which helps protect their copyright and guarantees the quality and standard of products. However, having a brand seems to be difficult for producers, including me, and only few of us can do this. I would like the responsible sector to consider this issue and help more producers get copyrights and brands.
By Visith Teppalath
(Latest Update March 15, 2021)