What can be done to protect the environment and keep tourist attractions clean?
Inconsiderate tourists are spoiling beauty spots by parking their vehicles on riverbanks and having parties, when garbage ends up being thrown into the river. Rivers are becoming dirty because of tourism and public bathing, environmentalists say. Vientiane Times asked for people's thoughts on ways to encourage better behaviour.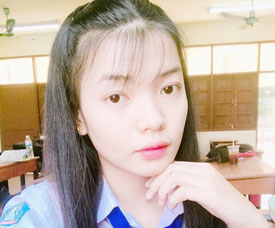 Ms Amphone Khambounmy, a student in Sikhottabong district, Vientiane: If we want to keep tourist spots clean, we shouldn't take a lot of unnecessary things there in the first place. We should not take anything that might cause a fire or damage the environment. Most importantly, we should not pick plants or fruit from the places we visit because that could disturb the natural balance. When travelling, we should consider the place and its environment and ask ourselves what we should do so as not to harm the environment. How can we keep it pristine? What can we do to prevent others from spoiling the area? It is important that we keep our tourist attractions as unspoiled and garbage free as possible.

Ms Soulivanh Souliyaseng, a resident of Xaythany district, Vientiane: I think the environment is gradually deteriorating because of human activity, especially at tourist attractions. These days most places are not as nice as they used to be and are suffering from various forms of pollution. Air pollution is a problem and people smoke in prohibited areas, while many people throw rubbish into rivers or discharge wastewater into waterways. If too many people continue to do this, there might be serious health impacts in the future. We should try to instill the right attitudes in children and enforce laws to protect tourist attractions.

Mr Chittakone Keoasa, a student at the National University of Laos: Ecotourism enables people to experience the natural environment in ways that do not damage it or disturb habitats. I think we should follow the rules that ecotourism has introduced, such as reducing the use of plastic products, not throwing rubbish around and, importantly, picking up after yourself. We should also take care not to disturb wildlife.
Ms Maixee Ya, a student in Xieng Khuang province: Whenever sightseeing or taking photographs, we should keep the area clean. If you see rubbish lying around, pick it up. If we all encourage each other to keep the places we visit clean, we will have a much nicer environment. This would help attract more tourists and then we can further develop areas in ways that ensure cleanliness. If we can teach everyone to play their part in cleaning up after themselves and helping each other to pick up litter, we will have more clean and natural places to visit and take pictures.
Ms Phimkhum Somthavy, a resident of Sikhottabong district, Vientiane: Every time we go to a beauty spot we are charged a cleaning fee. Unfortunately, this leads people to believe they can create a mess and because they've paid a fee someone else will clean it up. But they don't seem to understand that this is a difficult job and inconsiderately leave cans and other rubbish lying around, even in rivers, which can harm aquatic creatures. The person responsible for managing the site should put up signs telling people what they can do and cannot do in the area.
Ms Toula Phalasing, a student at the National University of Laos: If I could do one thing to preserve the environment I would encourage people to realise how important the environment is and that without clean air and water, humans would become extinct. We should take time to think about this and change our behaviour before it's too late, remembering that "it's better to be safe than sorry".
By Viengkeo & Souvanny
(Latest Update March 19, 2021)