What should we do to stop the burning and indiscriminate dumping of rubbish?
Burning rubbish pollutes the air and is also a fire hazard. The authorities have issued warnings about this behaviour and have set up hotline Number 1523 for the public to report anyone burning garbage. Vientiane Times asked some people for their thoughts on ways to put an end to this chronic problem.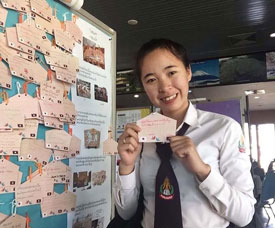 Mr Yearha Xuaxay, a soldier in Xieng Khuang province: There must be a place where garbage and recyclable items can be stored. Maybe somewhere where things can break down and disintegrate without having to burn them. If we could have such a place, this may reduce burning. Burning creates bad gases and particles which pollute the air, so by not burning we are doing the world a favour. It is hard to eliminate reckless dumping but if we try to minimise littering we can eventually put an end to this practice. We also need a lot more rubbish bins in public places and at tourist attractions in order to reduce littering. If we can educate everyone about not littering, we can hope to eliminate it. But the process starts with education.
Ms Sabanhnga Sorinpanh, a student at the National University of Laos: I think burning garbage is hard to stop. If you don't want people to burn garbage, you have to make everyone know how to recycle and re-use waste materials. People won't keep or process garbage unless it makes money or has other benefits. And we need a programme to collect garbage. To prevent the inconsiderate dumping of garbage, we need a lot more rubbish bins. Some places do not have dustbins, which means people just throw litter on the ground. If we can provide more trash cans and recycle and re-use the things we dispose of, this is a first step to ending littering and burning.
Ms Noynolom Mouapalee, a farmer in Xieng Khuang province: If we want to put a stop to littering, the government must take stricter measures to prevent it. It should be strictly forbidden and anyone seen or caught littering should be fined or jailed. First offenders should be penalised without exception, as well as those who constantly do the wrong thing. Without discipline, we won't be able to stop littering. In order to stop the burning of garbage, every household must be directed to separate the rubbish they generate so that some items can be recycled and reused. By reusing things, we can reduce the need to burn everything. If we can put a stop to burning, we will have cleaner air and our lungs won't suffer, and we will have a cleaner and safer environment.

Mr Chittakone Keoasa, a student at the National University of Laos: When I go to classes every morning, I see clouds of smoke floating in the air, which makes me feel uncomfortable when I breathe. I wonder why it has to be like this and I know the answer – it's because of human activities such as cutting down trees, smoke from factories, and the burning of garbage. We should stop doing this, especially as we have garbage trucks that collect garbage. Everyone should stop burning otherwise we won't have fresh air to breathe in the future.
Ms Somboutphone Panyanouvong, a resident of Pakxane district, Borikhamxay: I live in Borikhamxay, not the capital, but I also feel that the weather is gradually getting hotter, even in the mornings. I am critical of people who burn garbage, as it's unnecessary and inconsiderate. I have no idea why so many people do this, but I think it's bad to have so much smoke in the air. When it rains, this smoke will harm the vegetables and fruit that we grow and the particles in the air will have other effects on our lives.
Mr Sengphet Saenkhamvongsa, a student at the National University of Laos: To stop people from burning garbage, the authorities should have strict rules. If we see someone burning anything, we should inform the authorities and they should take action by arresting or fining those responsible. If there were a crackdown on burning, as well as penalties, no one would dare to do it.

By Souvanny and Viengkeo
(Latest Update March 25, 2021)