What do you think about buying and selling goods online?

Online businesses are booming, especially since the Covid-19 pandemic changed
the way we do things, but this method of buying and selling items has both its good and bad points. Vientiane Times asked some local people for their thoughts on conducting business online.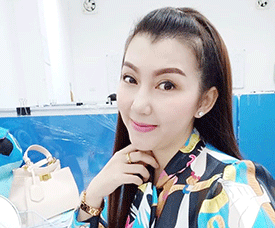 Ms Souphalin Thammavongsa, an online seller: The advantage for vendors is that we don't need to spend a lot of money to have products in stock. We also don't need to have a shop because we can promote everything on social media. And if we offer promotions or discounts to attract customers, they might come back again. The downside is that the item ordered may not be delivered on time and sometimes it takes many days to fill an order.

Ms Linda Duangdala, a resident of Xaythany district: The pros of buying things online are that it's easier than having to go a shop because it saves time and effort and is also cheaper. The cons are that you're not able to actually see or try on the item you're buying. In reality, the product may not be what it looked like in the picture and may not be of good quality. This means that after you've bought it you will feel regret and disappointment. Before we buy anything online we should make sure that the products are the same as in the picture and if they are not we should return them to the vendor and ask for our money back. I'm not sure that Laos has regulations in place to control online businesses so the authorities should pay more attention to their operations to protect both buyers and sellers.

Ms Boutsaba Vorlalth, a resident of Xaysettha district: I think being an online seller is an easy way to run a business. It means you can sell things everywhere and at any time so long as you have internet access or a mobile phone. In addition, you can earn more than by having a shop because you don't have to spend money on rent, taxes or electricity. The downside is that there are risks involved. A product may not be delivered on time or a customer may cancel their order and then the vendor is responsible for any losses or damage.

Ms Khamhou Vongxay a resident of Xaythany district: The advantages of buying things online are that it's easy and there's a wide variety of goods available, some of which you can't find in the shops. The disadvantages are that the item we order might be of poor quality, especially because nowadays some stores sell imitation products at a low price which attracts customers, but there are always problems when goods are not of high quality. We should make sure that there's a binding agreement between the vendor and buyer to prevent fraud. I would like the authorities to inspect online businesses and make sure that vendors are registered and operating legally, as this would build trust among consumers.
Ms Viengkeoha Xaixongma, a student at the National University of Laos: There are good and bad things about online shopping. The good things are that you don't waste time going shopping, you can just buy something using a mobile phone and it will be delivered. The problem is that you can't really assess the quality of what's being advertised, so sometimes there's a difference between what you see and what you get. There are some risks involved as well. There's always the fear that people will lie or cancel something, and to prevent scams and bad customers you should always check their background to make sure they can be trusted. The good thing about selling things online is that you don't need a shop to sell items, you can just do it using the internet so you don't have to be at your store all day.
By Maniyadfa & Vithaya
(Latest Update April 4, 2021)