What do you think about the recent requests to buy a QR code or account for social media apps?

Criminal gangs can operate in many ways, with one of the latest being online requests for people to buy a QR code or account for social media applications. Vientiane Times asked members of the public what they thought about this and how we could avoid falling prey to scams.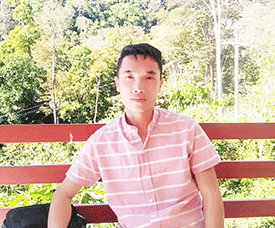 Mr Phasit, an official in Champassak province: I have seen posts about this but I don't want to have anything to do with it. We all know that modern technology enables us to access information more quickly and makes our lives easier, but unfortunately there are always people who want to take advantage of this and use social media to deceive others for their personal gain. To protect ourselves, we need to think carefully before deciding to do anything.

Ms Chanh Phonvilay, a resident of Xaythany district, Vientiane: I always see posts regarding the purchase of a QR code or account for social media applications, especially for WeChat and Facebook. I'm not sure what the meaning of this is but I strongly believe that we shouldn't take any risks when doing anything online. When we install an application we have to provide our personal information in order to register. If this information is stolen or misappropriated, it will be a big problem. Users of social media should not post or share their personal details as this can enable criminals to intervene.
Ms Souksamai, a resident of Xaysettha district, Vientiane: Yes, I saw that many people were buying accounts and the QR code for a WeChat application. I asked some of them why they were doing this and they said that the application was now difficult to install so they needed to set up a new account in order to reset it. But I think we should avoid doing anything that enables people we don't know to access our personal information so that we don't fall victim to a scam.

Mr Pheng Sisanuk, a resident of Vientiane province: I don't know much about this and I don't have much time for social media applications. But I think everyone should be careful and think more before buying or selling anything online. The authorities have warned the public about this, so we should all be on guard and consider everything involved so that we are not cheated by a scam.
Ms Maiyia Vang, a student from Xaysomboun province: I think scammers are terrible and these days there seem to be many of them, both online and in real life. If you're not careful, you can easily fall victim to a scam. Before we decide to do anything, we should learn as much as possible about the matter. And to prevent problems, we should all be more careful about everyone, everything, and every step we take in our lives.
By Lamphone Pasanthong
(Latest Update April 6, 2021)