What are your plans for the Lao New Year holiday?
This year the Lao New Year holiday runs from Wednesday April 14 until Sunday 18. Last year the authorities banned celebrations on the streets and everyone stayed at home during the lockdown. But now things have opened up a bit so Vientiane Times asked local residents about their plans for the holiday.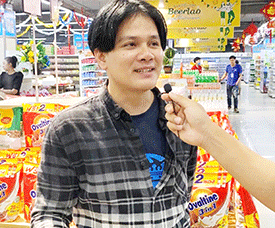 Mr Daenkai, a city resident: Before the arrival of Covid-19, Lao New Year was a great time and we all had lots of fun. But the pandemic is still with us so I'm not planning to travel like I've done in previous years. I'm rather afraid to go out because no one knows when a second wave of the virus might strike. It's safer to celebrate Lao New Year at home with our family rather than going to public places. Usually I go to nine temples but this year I think I may limit it to seven. Seven temples is enough because I don't want to spend too much time in crowded places. The best thing is to stay at home and avoid crowds in order to stay safe from Covid-19 and accidents.

Mr Vithaya Bounmexay a college student in Xaythany district: Lao New Year is one of the most important festivals for Lao people. This year the government might not allow us to have parties or activities that involve a lot of people. Usually I go to parties and travel around Vientiane with my friends and family. This year I plan to have a small party with my friends and splash a little water on the older members of my family as is customary. To prevent the spread of Covid-19, we should not gather in groups of more than 10 people, maintain social distancing, and try not to come in contact with at-risk groups. But right now road accidents are the biggest problem in Laos so I urge everyone to drink responsibly and not to drive when drunk.

Ms Baitery, an employee in the city: In my opinion, if the government allows us to celebrate Lao New Year freely, it will be fun. Normally when there's a holiday I go home to see my family and of course I always celebrate the Lao New Year with them. I think that this year we should be extra careful and follow the advice of authorities to avoid any problems.

Mr Khua Sanokham, a resident of Xaythany district: Lao New Year won't be as much fun as usual because of Covid-19. Normally I celebrate with my family and travel to Luang Prabang, Oudomxay or Phongsaly in the north. Sometimes I go to the south, to Pakxe. But last year I did not go anywhere because of Covid-19. This year my family will go to the Khonephapeng waterfall in Champassak because I've never been there. But we will keep a safe distance from other people, wear face masks, and wash our hands regularly to stay safe from the virus.
Ms Larnoy, a student in Hadxaifong district: We think the Lao New Year celebrations won't be very lively this year, the same as last year, because of the pandemic, so we plan to stay at home and just have the traditional rituals with our family. I think it's important that people remember they should still maintain social distancing, not gather in groups of more than 10, take care to avoid accidents, and generally take precautions against Covid-19.
By Lamphone Pasanthong
(Latest Update April 7, 2021)