What are your thoughts about the Covid-19 vaccine?
People are currently being vaccinated with the Sinopharm vaccine and vaccines provided by the UN-led COVAX Facility. As of April 4, some 102,491 people in at-risk groups had received their first vaccination, while 6,171 people got second doses. Vientiane Times asked some people how they felt after being vaccinated.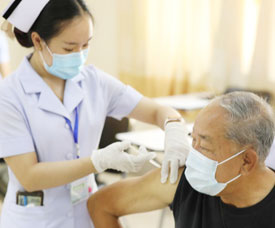 Ms Latdavanh Somoulay, a resident of Sikhottabong district, Vientiane: I've been guided by mainstream media and believe those who say that no one has died after being vaccinated. Some people are suspicious because of a lack of knowledge and are swayed by public opinion, which is often misinformed. I've had my first dose of the vaccine and did not experience any side effects. I believe the vaccines are safe for humans because they have all passed stringent safety and quality checks by the World Health Organisation.

Mr Sitar Thammavongsa, an official in Champassak province: I'm studying for a Master's degree in China but right now I'm doing the work online because of the pandemic. I think vaccinations are essential if we want to stay safe from the virus. I've had two doses and had no side effects other than a slight ache in my arm at the vaccination site. I don't know how long immunity will last, but I believe the Covid-19 vaccines have been carefully reviewed by WHO and assessed for quality, safety and efficacy. It's important that we continue to follow government guidelines on keeping the virus in check. If we want this pandemic to end, everyone must play their part.

Mr Vilayvan Somoulay, a student at the Rattana Institute of Business Administration, Vientiane: I had my first vaccination last week and will get the second one next month. In my opinion, the vaccines are of high quality and are safe, and I didn't experience any side effects. With regard to the rumours, I strongly urge everyone not to worry, because these vaccines are safe and are provided free for all Lao people.
Mr Visanou Viphonhien, a resident of Chanthabouly district, Vientiane: Having the vaccine makes me feel safe and gives me immunity against Covid-19. When I was vaccinated I did not have any side effects and I've had two doses. But I'm not sure how effective the vaccine will be because mutations of the Covid-19 virus are spreading around the world. Of course, no one can force you to be vaccinated and it's up to each individual to make their own decision. The Ministry of Health says that anyone with an existing medical condition should make sure that it's safe to be vaccinated.

Ms Kanlaya Thoummakesone a resident of Vientiane: The vaccinations are free and everyone can have them. I believe that the vaccines being offered are at least 80 percent effective because they have been developed and manufactured by foreign scientists. I decided to have two doses. I didn't feel any effects after the first vaccination but I felt a bit lightheaded after the second one. I'm not sure whether this was because of the vaccine or for some other reason. There are rumours that some people have died after being vaccinated but I think any deaths are related to other health issues, not the vaccine.
By Maniyadfa & Vithaya
(Latest Update April 8, 2021)