What's to be done about the cattle that roam on main roads?
Vientiane is the rapidly developing heart of Laos but it seems the city is unable to shake off its rural roots. Even as high-rises spring up all around and vehicles appear in increasing quantity, cattle meander along some roads with no owner in sight. This is not only dangerous but does not reflect the image required of a capital city. Vientiane Times asked around for opinions on this chronic problem.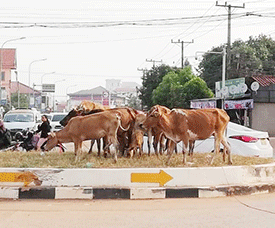 Ms Phanmaly Xanalath, a resident of Xaysettha district, Vientiane: I often see cattle wandering along the 450 Year road and some cattle on other roads with no owner in sight. I know that this area used to be rice fields and there was lots of space for animals to roam, but things have changed and this is now part of the city centre. It's not really a good image for Vientiane to have cattle walking in the middle of the road. The owners should take more responsibility and consider the safety issues. In addition, they should take better care of their animals and make sure they're safe and fenced in or move them somewhere more appropriate with more space.

Ms Khiedchana Keopaserd, a businesswoman in Champassak province: I don't think it looks good in the middle of Vientiane. We must work together to improve the city, as part of efforts to achieve the community development goals set forth by the mayor. The authorities should take strict action against violators, especially those who don't keep their animals fenced in, because it causes traffic congestion and makes roads dirty.

Mr Toun Sipaseud, an employee from Huaphan province: I often see cattle wandering on roads. They force the traffic to stop and throw drivers into confusion. I don't understand why the owners don't have more sense of responsibility as it's really dangerous on such busy roads. There are enough problems as it is with accidents and other difficulties when driving. The owners should make sure their animals are penned in or tied up. And the authorities should penalise those who allow livestock to wander freely. We want Vientiane to be clean, attractive and safe. The authorities should regularly monitor this problem around the country, not just in Vientiane.
Ms Tou Vongsanid, a resident of Vientiane: I think this happens because, although the city has developed rapidly, there is no space for livestock. We must remember that not so long ago large areas of the city were rice fields and lots of people kept buffalo and cattle. Some people have no choice but to continue this way of life as that's how they earn a living. If they can't keep animals they will have no source of income. I think the authorities should advise farmers and make arrangements that allow them to keep their cattle or compensate them somehow. Certainly, cattle should not be allowed to graze unattended and definitely shouldn't be allowed on roads. The owners should take more responsibility and consider the safety issues. It's essential that this matter is addressed to prevent injury to both cattle and people.
By Lamphone Pasanthong
(Latest Update March 16, 2021)