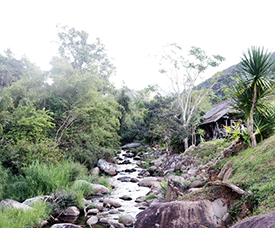 What can we do to protect rivers and keep water clean?

Water is essential for all forms of life. To mark World Water Day on March 22, Vientiane Times asked members of the public for their thoughts on what should be done to preserve rivers.

Mr Boudha Pasitsay, a resident at the National University of Laos: I feel that most people don't give much thought to the future and don't care that we are having a big problem with rivers. People don't seem to realise that rivers give us food, water, jobs and many other things, and never understand the importance of rivers. Maybe one day when they do understand it will be too late to rescue our rivers. This is why we should stop to consider the consequences of our actions before doing anything involving rivers, otherwise living things might become extinct.
Mr Viengsavanh Chanthalangsy, a resident of Xaysettha district, Vientiane: Rivers today are not as clean as they used to be, because of human behaviour. If we ignore to this issue it might seriously impact our health. So we should try do something now to restore rivers. We can start with simple things that everyone can do, such as not throwing rubbish or dirty things into rivers, and not putting wastewater or chemicals into waterways. We should all play a part in this, because rivers belong to all of us and not someone else.

Mr Somphet Leexiongchia, an official in Xaysettha district, Vientiane: When it comes to water, many people know and take into account the importance of water because it's essential for all forms of life and is also an important element in the formation of the atmosphere and climate. The earth and our bodies are 70 percent water, which is about three-quarters of everything in and around us. So if there is too much or too little water, the world and our bodies will not function normally.

Mr Along Keomala, a student at the National University of Laos: It's very difficult to protect the quality of rivers, according to the news, especially with so many new waterfront attractions. It's hard to keep rivers clean because of human activities such as boating, jet skiing and fishing, which make rivers gradually turn murky. But even though this is a difficult task, if everyone works together, I strongly believe that we will have enough clean water to last us for a long time.
Ms Chuakue, a farmer in Xieng Khuang province: Water is very important for both living and non-living things. Living things use water for drinking, bathing, cooking, washing, gardening, farming, etc. Inanimate things use water during industrial production. By saving water there can be maximum benefit and we should not use more than we need. We should make sure the water we use is clean and not throw garbage in it. If it is tap water, do not be wasteful, and if using water from rivers or streams we should consider the level in reservoirs. We should also not destroy forests.

Ms Kiayang Youanou, a student at the National University of Laos: Water is very important for human life, as well as for animals, plants, and forests, because water is what makes all living things grow and no one can live without water. So we need to use water sparingly and effectively. If we need clean water for drinking, we should filter it, so that we are confident the water is safe to drink and will not cause illness.
By Souvanny & Viengkeo
(Latest Update March 24, 2021)