A Russian plane delivers equipment at Wattay International Airport in support of checks at border crossings to prevent terrorist threats and combat drug trafficking. The equipment was supplied by KAMAZ, a Russian manufacturer of trucks. Russian technical assistance and aid is aimed at further strengthening Laos' efforts to counter regional drug trafficking and other transnational crime, including the illegal arms trade.
The Lao Ambassador to Austria, Mr Khonepheng Thammavong (left), presents his credentials to the President of the United Nations Industrial Development Organisation (UNIDO) Mr Ciyong Zou in Vienna, after being appointed the new Permanent Representative of Laos to UNIDO. Mr Khonepheng expressed his appreciation of UNIDO's assistance to Laos in strengthening the developoment of industry over the past 37 years.
The Ambassador of Qatar to Laos, Mr Ahmed Ali A.J. Al-Tamimi, on Friday visits Deputy Minister of Planning and Investment Mrs Khamchan Vongsenboun to discuss future areas of cooperation.
A representative of BNK Capital Lao Leasing Co., Ltd. hands over 50 computers worth more than 321 million kip to Minister of Labour and Social Welfare, Mrs Baykham Khattiya, and other ministry officials. The computers will be used in the ministry's work in Vientiane and around the country.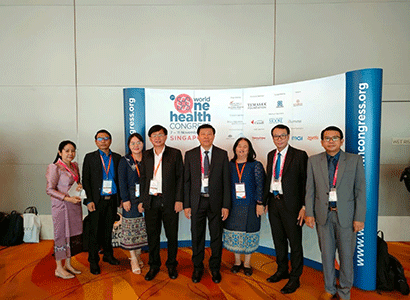 President of the Lao Red Cross, Associate Prof. Dr Phouthone Muongpak (fifth left), attends the 7th World One Health Congress in Singapore. The event was attended by more than 2,000 people representing ministries of health, agriculture and environment and other entities. Prizes were awarded to outstanding researchers from several countries, and Congress delegates pledged to improve the health of humans, animals, crops and the environment towards more sustainable development.