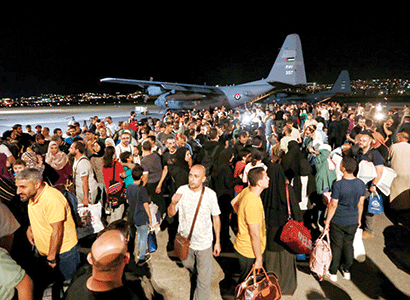 Jordanians evacuated from Sudan arrive at a military airport in Amman, Jordan, Monday, April 24, 2023.          --Photo AP
Diplomats flee Sudan fighting as citizens struggle to escape

KHARTOUM, Sudan (AP) -- Foreign governments evacuated diplomats, staff and others from Sudan on Sunday as rival generals battled for a ninth day with no sign of a truce that had been declared for a major Muslim holiday.
While world powers like the US and Britain airlifted their diplomats from the capital of Khartoum, Sudanese desperately sought to flee the chaos. Many risked dangerous roads to cross the northern border into Egypt.
"My family my mother, my siblings and my nephews  are on the road from Sudan to Cairo through Aswan," prominent Sudanese filmmaker Amjad Abual-Ala wrote on Facebook. Fighting raged in Omdurman, a city across the Nile River from Khartoum, residents said, despite a hoped-for cease-fire to coincide with the three-day Muslim holiday of Eid al-Fitr.
"We did not see such a truce," Amin al-Tayed said from his home near state TV headquarters in Omdurman, adding that heavy gunfire and thundering explosions rocked the city.
Over 420 people, including 264 civilians, have been killed and over 3,700 wounded in fighting between the Sudanese armed forces and the powerful paramilitary group known as the Rapid Support Forces. The RSF said the armed forces unleashed airstrikes on the upscale neighbourhood of Kafouri, north of Khartoum. There was no immediate army comment.
The ongoing violence has affected operations at the main international airport, destroying civilian planes and damaging at least one runway, and thick, black smoke rose above it. Other air-ports also have been knocked out of operation.
European Union foreign policy chief Josep Borrell tweeted he had spoken with the rival commanders, urging an immediate cease-fire to protect civilians and the evacuation of EU citizens.
In other fighting, a senior military official said it repelled an RSF attack on Kober Prison in Khartoum where Sudan's longtime ruler, Omar al-Bashir, and former officials in his movement have been held since his 2019 ouster. The official, who spoke on condition of anonymity because he was not authorised to talk to the media, said a number of prisoners fled but al-Bashir and other high-profile inmates were in a "highly secure" area, adding that "a few prisoners" were killed or wounded.
The RSF claimed the military removed al-Bashir and other prisoners from the facility, although the statement could not be independently confirmed.
The Arqin border crossing with Egypt was crowded with about 30 passenger buses of at least 55 people each, said Suliman al-Kouni, an Egyptian student who fled northward from Khartoum with dozens of other students.
"We traveled 15 hours on land at our own risk," al-Kouni told The Associated Press by phone. "But many of our friends are still trapped in Sudan." Sudan experienced a "near-total collapse" of internet and phone service Sunday, according to the monitoring service NetBlocks.
"It's possible that infrastructure has been damaged or sabotaged," said Netblocks director Alp Toker. "This will have a major effect on residents' ability to stay safe and will impact the evacuation programmes that are ongoing."
After a week of battles that hindered rescues, US special forces swiftly evacuated 70 US Embassy staffers from Khartoum to Ethiopia early Sunday. Although American officials said it was too dangerous for a government-coordinated evacuation of thousands of private citizens, other countries scrambled to remove their citizens as well as their diplomats.
France and Italy said they would accommodate all their citizens who want to leave, as well as those of other countries who could not otherwise join an evacuation operation. Germany said early Monday that a military plane carrying 101 German diplomatic staff, family members and citizens of partner countries who were evacuated from Sudan via Jordan has landed safely in Berlin. The military said it had brought 311 people to Jordan so far, from where an onward journey is being organised.

(Latest Update April 25, 2023)