1st case of COVID-19 found in Tokyo Olympic village

TOKYO (Kyodo) -- The Tokyo Olympic organising committee said Saturday the first positive case of COVID-19 has been detected in the Tokyo athletes' village with less than a week until the opening ceremony.
The organising committee did not identify the individual but said the infected person is a visitor from abroad involved in organising the games, and not an athlete. The person did not share sleeping quarters with anyone, it said.
Tokyo 2020 CEO Toshiro Muto said the individual was isolated after testing positive and transported to a dedicated medical facility outside of the athletes' village.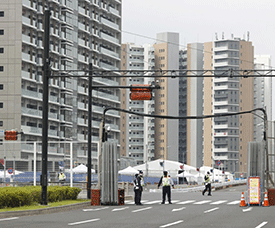 Photo taken on July 13, 2021, shows the athletes' village for the Tokyo Olympics, which officially opened the same day in the capital's Harumi waterfront district ahead of the games' start in late July.  --Photo Kyodo
No specifics about the severity of the person's condition have been disclosed.
The news comes as the number of Olympic-related arrivals to Tokyo grows, with the peak expected on Sunday.
Muto informed the media of the first positive test taken at a regular screening at the village in the capital's Harumi waterfront district, but that he was unaware of the person's vaccination status.
According to organisers, a saliva-based test was taken on Thursday and came back positive the following day. The case was confirmed with a positive PCR test at an outpatient facility within the athletes' village.
The case is one of 15 new positive results among games participants and workers reported on Saturday, the highest daily count since the committee started compiling figures on July 1. The overall tally does not include athletes at pre-Olympic training camps in Japan.
Of the 15 infection cases, seven are contractors, six are Olympic staff members and two are members of the press. Eight traveled from abroad for the games and have been in Japan for fewer than 14 days, while seven are Japan residents. There have been a total of 45 COVID-19 infections announced by organisers since July 1.
The village, with 21 residential buildings, 3,600 rooms and 18,000 beds, opened to athletes on Tuesday.
International Olympic Committee President Thomas Bach, who arrived in Japan on July 8, told Japanese Prime Minister Yoshihide Suga that 85 percent of athletes and officials living in the Olympic village would be fully vaccinated against COVID-19. While in Japan, athletes are in principle restricted to the village and their training and competition venues as organisers try to enforce a "bubble" environment. They will also be subject to daily coronavirus screening.

(Latest Update July 19, 2021)