20 missing after mudslide hits Atami

JAPAN (The Japan Times/ANN) -- About 20 people were reported missing after a mudslide triggered by torrential rain destroyed homes in Atami, Shizuoka Prefecture, on Saturday, as a seasonal front brought heavy downpours to areas across the Kanto and Tokai regions.
Some residents are feared to have been swept away when the mudflow hit homes in Atami's Izusan district.
Several emergency calls were made at around 10:30 am on Saturday, reporting that a mudflow had occurred in the Izusan district about 1½ kilomters north of JR Atami Station.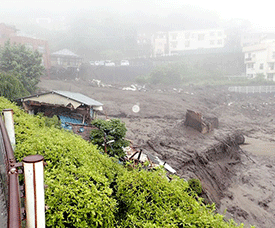 The aftermath of a mudslide in the Izusan district in Atami, Shizuoka Prefecture, is seen on Saturday.   --PhotoThe Yomiuri Shimbun
The prefectural government set up a task force at noon and asked the Self-Defense Forces to dispatch personnel.
Soon after 11 am, several residents evacuated to the MOA Museum of Art, which is near the site of the mudslide. They later moved to a nearby junior high school for safety, according to the museum.
A resident in her 50s said she heard "sounds similar to bombing" when the mudflow occurred. "I still can't stop shaking," she said.
At around 7:55 am in Hiratsuka, Kanagawa Prefecture, the municipal government issued a Level 5 alert, the highest level, which calls for residents to take emergency safety measures as the situation is life-threatening.
The alert was issued to about 200,000 residents in the areas surrounding six rivers running through the city, including the Kaname River.
Rain in the Kanto and Tokai regions is expected to continue intermittently until Monday. The Japan Meteorological Agency has called for extreme caution due to the risk of flooding, landslides and other disasters.
According to the Internal Affairs and Communications Ministry's Fire and Disaster Management Agency, a Level 5 alert was issued for the first time since the disaster evacuation warning system used by local governments was revised in May.
Rainfall in Mori, Shizuoka Prefecture, in the 24-hour period to 6:50 am Saturday reached a record 340 millimetres, according to the meteorological agency.
Hiratsuka and Abiko, Chiba Prefecture, also reported record rainfall over a 24-hour period for the month of July.
In Hakone, Kanagawa Prefecture, 543 millimetres of rainfall was recorded in the 24-hour period to 9:40 am on the same day.
In Zushi, Kanagawa Prefecture, a car was hit by a landslide near the Zushi interchange exit of the Yokohama Yokosuka Road at about 8 am Saturday.
The driver was taken to a hospital, but his condition was not life-threatening.
Meanwhile, in Numazu, Shizuoka Prefecture, a house was reportedly swept away by a swollen river.

(Latest Update July 5, 2021)