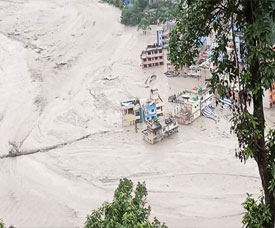 Floods in Nepal.        --Photo courtesy: Tanka Khadka
Bodies of seven people missing in Sindhupalchok flood recovered
NEPAL (The Kathmandu Post/ANN) -- Bodies of seven people, who were missing after floods in Sindhupalchok district since Tuesday, have been recovered on Wednesday.
According to DSP Prakash Sapkota, the identities of six of the seven victims have been ascertained.
"All of the deceased were workers at the Melamchi Trout Farm," said Sapkota.
Continuous rainfall since Monday has increased the water level in the Melamchi River as floodwaters entered the Melamchi Bazaar area causing massive damage to surrounding settlements.
District Police Office informed floodwaters have damaged scores of houses and swept away two concrete motorable bridges and around half a dozen suspension bridges in the district.
Eight trout fish farms, Nakote bridge, farmlands at Timbu, Chanaute Bazar, Amahyalmo Buspark and City Park have also been swept away by the floods.
The flood has also damaged the Helambu-based police office and the Chinese camp and Armed Police Force camp of the Melamchi Drinking Water Project, said police.
"The local people have been forced to seek refuge in higher grounds. Most of them spent their night under the open skies," said Raj Kumar Bhandari, a local man of Kiul in Helambu-2.

(Latest Update June 17, 2021)