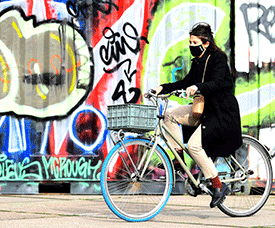 A woman wearing a mask rides a bike following the new social restrictions announced by the Dutch government, as the Netherlands battle to control the spread of the coronavirus disease (COVID-19), in Amsterdam, Netherlands on October 14, 2020.  --Photo agencies
Challenges await EU on the road to carbon neutrality

EUROPEAN (China Daily/ANN) -- The European Union aims to become carbon neutral by 2050 and plans to reduce carbon emissions by 55 percent by 2030, compared with 1990 levels. This is not going to be easy.
The EU's initial CO2 emissions reduction goal for 2030 under Jean-Claude Juncker, the European Commission president until 2019, was set at 40 percent. In September last year, the EC raised the goal to 55 percent. The difference is significant, amounting to 736 million metric tons of carbon each year, which is only slightly less than Germany's total annual emissions.
The major burden will fall on road transportation, shipping and aviation, and the construction and buildings sector, as well as poor and coal-dependent countries.
"Bringing all this together-the nightmare just begins," said one senior European Commission official.
First of all, financing will be a challenge. The European Commission has pledged 1 trillion euros (US$1.18 trillion) in green investments over this decade. The EU's pandemic recovery plan  Next Generation EU- as well as the EU's 2021-27 budget foresee 30 percent of financial resources linked to the green transition.
However, the European Parliament, and especially members of the European Green Party, consider these financial targets to be too low, thus questioning whether a green transition will happen in real terms.
Second, a mix of policies will be needed to achieve the EU-envisioned carbon neutral future. The European Green Deal foresees a number of policy tools being used related to industry, mobility, energy, greener buildings, agriculture and food systems, biodiversity, and a circular economy that aims for the elimination of waste and pollution and the continual use of resources.
Since the EU does not have a common climate or energy policy, the success of the green transition will depend largely on diverse national policies and differing circumstances.
In 2018, the total carbon footprint of the EU's 27 members was equal to 8.7 metric tonnes of CO2 per capita. But the footprint of individual countries varied widely, from 20.2 tonnes for Luxembourg to 15.3 tonnes for Estonia, 5.5 tonnes for Malta and 5.4 tonnes for Sweden. Germany's emissions equaled 10.2 tonnes, which was above the average, and France's hit 6.9 tonnes, below the average.
The EU aims for a three pillar approach that focuses on resource efficiency, carbon pricing and international cooperation. Joseph Stiglitz, a US economist, Nobel laureate and professor at Columbia University, has suggested that market instruments, namely carbon pricing-a cost applied to carbon pollution to encourage polluters to reduce emissions-should be the central element of the green transition, providing signals for investment, innovation and decarbonised operations.
Carbon pricing is related to "emission trading schemes", which have to be developed. The most globally developed emission trading programme, established in 2005 by the EU, covers around 40 percent of the EU's greenhouse gas emissions. It limits emissions from more than 11,000 heavy energy users, including power stations, industrial plants and airlines. Emissions covered by the EU's emission trading programme declined by about 35 percent between 2005 and 2019. The transportation and building sectors, not yet covered, are expected to enter the system following proposals to be ready by June.
(Latest Update March 31, 2021)