Chinese, Lao leaders mark relations over past 60 years
CHINA (China Daily/ANN) -- China and Laos have set a model for country-to-country relationships and made positive contributions to advancing the building of a community with a shared future for mankind, President Xi Jinping said on Sunday.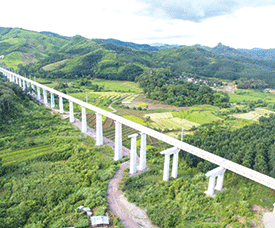 A section of the China-Laos railway is seen in northern Laos in this file photo taken on July 29, 2020.       --Photo Xinhua
Xi, who is also general secretary of the Communist Party of China Central Committee, made the remark while exchanging congratulations with Thongloun Sisoulith, general secretary of the Lao People's Revolutionary Party Central Committee and Lao president, on the 60th anniversary of the establishment of diplomatic relations between the two nations.
In his message to Thongloun, Xi said China and Laos are friendly socialist neighbours and part of an unbreakable community with a shared future.
Over the past 60 years, the two countries have always treated each other with sincerity, Xi said. They have kept carrying forward and implementing the Five Principles of Peaceful Coexistence, delivering substantial benefits to the two peoples, he added.
Xi said he is willing to work with Thongloun to implement the action plan of the China-Laos community with a shared future, promote high-level exchanges, strengthen strategic communication, deepen pragmatic cooperation and enable the two peoples to be good neighbours, friends, comrades and partners forever. In his message to Xi, Thongloun congratulated the CPC Central Committee with Xi at the core on its great achievements in advancing socialism with Chinese characteristics for a new era. He also thanked China for its assistance to Laos in fighting COVID-19 and said Laos stands ready to intensify comprehensive strategic cooperation with China.
Also on Sunday, Premier Li Keqiang and his Laotian counterpart Phankham Viphavanh exchanged congratulatory messages on the anniversary. They pledged to consolidate political mutual trust and advance pragmatic win-win cooperation.


(Latest Update April 27, 2021)