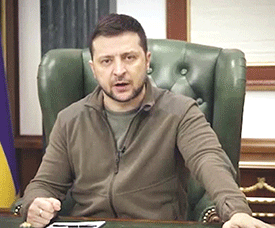 This handout video grab taken and released by the Ukraine Presidency press service on March 12, 2022 shows Ukrainian President Volodymyr Zelensky speaking in capital Kyiv.
EU accession must wait, Zelensky told

(China Daily/ANN) -- European Union leaders have failed to agree on a date to end energy dependence on Russia and on granting Ukraine fast-track membership, and French and German leaders are continuing to seek diplomatic resolutions to the conflict.
Leaders of 27 EU member states meeting for an informal summit in Versailles, near Paris, on Thursday and Friday "acknowledged the European aspirations" of Ukraine and vowed to strengthen their ties with Kyiv, but ruled out quick accession to the bloc sought by Ukrainian President Volodymyr Zelensky, who signed a formal application on Feb 28.
"Today we have opened the pathway toward us for Ukraine," European Commission President Ursula von der Leyen said after the meeting. "They are part of the European family."
However, France's President Emmanuel Macron, host of the summit, made it clear that there will be no fast-track accession for Ukraine.
"The answer is no," he said after the summit.
Other major European leaders echoed the view, with Dutch Prime Minister Mark Rutte saying earlier that there was "no such thing as a fast-tracking of accession that doesn't exist" and German Chancellor Olaf Scholz emphasising that "it's very important that we continue to pursue the things we have decided in the past", pointing to the association agreement between the EU and Ukraine in 2017 as a way to strengthen ties.
Failing to agree on a date to cut energy dependence on Russia, the EU leaders promised only to "phase out our dependency on Russian gas, oil and coal imports as soon as possible".
The United States has announced a ban on Russian energy, but the EU is the largest buyer of Russian oil and gas, with Germany being the largest importer of Russian energy in the EU.

(Latest Update March 15, 2022)