Kishida takes office as Japan PM, calls October 31 general election

TOKYO (Kyodo) -- Fumio Kishida took office as Japan's prime minister Monday forming a Cabinet charged with keeping COVID-19 under control while reviving a battered economy, as he looks to appeal to voters heading into a general election in less than a month.
The election for the House of Representatives, the more powerful lower chamber of parliament, will be held October 31, Kishida said, earlier than the first half of November as had been expected.
The 64-year-old former foreign minister replaced Yoshihide Suga, who resigned after just over a year in office amid criticism of his pandemic respons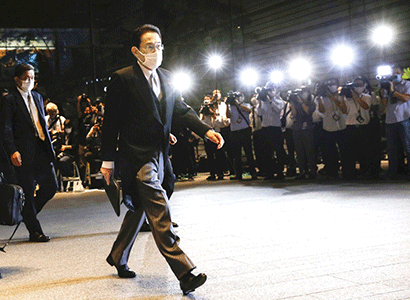 Japan's newly elected Prime Minister Fumio Kishida leaves his office in Tokyo to attend the swearing-in ceremony at the Imperial Palace on October 4, 2021.  --Photo Kyodo
"We need to fight the coronavirus to bring social and business activities back to normal and build a new economy, a new way of life, a new age. I want to work with the people toward that goal," Kishida told a press conference. "I will regain the trust of the people, which is the foundation of democracy."
The Cabinet includes a slew of fresh faces, with 13 of its 20 members taking on a ministerial post for the first time. But key posts were given to those with close ties to former Prime Minister Shinzo Abe, suggesting there will not be a radical shift in policy from previous administrations.
Kishida retained Foreign Minister Toshimitsu Motegi and Defense Minister Nobuo Kishi, Abe's younger brother, while Shunichi Suzuki was tapped to replace Taro Aso as finance minister, a job he held for nearly nine years. Hirokazu Matsuno, a former education minister, was named chief Cabinet secretary.
Kishida, who was chosen as leader of the ruling Liberal Democratic Party last week, was elected prime minister by a resounding majority in both chambers of the Diet. He was then formally invested with the title by Emperor Naruhito in a ceremony at the Imperial Palace.
Kishida said he will spend the next several days delivering his first policy speech in the Diet and taking questions from other party leaders, then dissolve the lower house on October 14 and begin the campaigning period for the general election on Oct. 19.
"I want to realise bold COVID-19 measures and an economic package as soon as possible," he said. "In order to do that, first the people need to decide whether I'm up to the job."
The vote will be his first major test in office, and he will need to defy his image as a low-key consensus builder who struggles to excite voters.
Previously expected to be held either November 7 or 14, Kishida brought the general election forward in an apparent bid to capitalise on good will toward his just-launched government and a decline in COVID-19 cases, which on Monday fell below 100 in Tokyo for the first time this year.
With around 60 percent of Japan's population fully vaccinated, Kishida's immediate task is preventing another surge in infections while gradually lifting restrictions on social and business activities, and reopening the world's third-largest economy to foreign travelers.

(Latest Update October 3, 2021)