Life turns sour as cost of living soars in US

(China Daily/ANN) -- People in the United States are paying more for everyday items, driving less to save gasoline, relocating to cheaper apartments and delaying holidays as they feel the pain of inflation, the highest in 40 years.
In a grocery store on Manhattan's Westside, a 50-year-old accountant who identified himself as Edward, said he found the price of oranges had risen from US$1.29 on Wednesday to US$1.59 each Friday morning.
He asked the store manager why and was told that the price of diesel fuel for the truck that delivered the oranges had risen, "so must the price of the oranges". The shopper still bought six of them.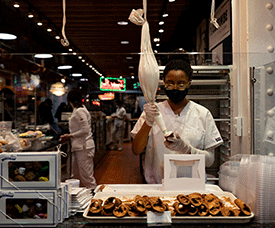 A worker fills a cannoli at a bakery at Reading Terminal Market after the inflation rate hit a 40-year high in January, in Philadelphia, Pennsylvania, US on February 19, 2022.
Asked who is to blame for higher food prices, he said: "Everyone and nobody. It's the world situation. Higher prices everywhere, but what goes up must come down."
An overwhelming majority of US people say they are dissatisfied with the direction the country is going in, and their biggest economic concern is rising inflation, according to a Gallup poll conducted early last month. The percentage saying national economic conditions are deteriorating rose three points to 70 percent last month.
In Los Angeles, Kathy Huang, 35, said she had to move to a cheaper apartment recently because she cannot afford rising rent.
The rent for a two-bedroom apartment that she lived in previously has risen from US$2,750 a month to more than US$3,200 a month.
"Everything is so expensive now-food, gas, everything. My monthly grocery bill has gone up from around US$500 to more than US$700."
Consumer prices in January rose 6.1 percent from a year earlier, according to the Federal Reserve's preferred gauge. Excluding volatile food and energy categories, so-called core inflation rose 5.2 percent, close to a 40-year high.
Increasing complaints
From produce to gasoline and automobiles, inflation has hit every sector of the economy, and people from various walks of life are complaining about the impact on their lives.
Keith, 30, who gave only his first name, said he had stopped going to Vermont to ski because the price of a hotel and chairlift ticket for him, his two children and spouse is "crazy".
In addition, it costs too much for gasoline to get there from where he lives in New Jersey, and to feed his children and wife when they get to the ski resort even though they do not stay overnight, he said.
He said he expects prices will start to come down when the Federal Reserve raises interest rates.
"I work on Wall Street, and we will welcome that."
He faulted the supply chain, aggressive overbuying by people and higher levels of federal spending for inflation. "There's no one cause; it's just so many."
In the San Francisco Bay Area the average gasoline price rose above $5 a gallon on Friday for the first time, an increase that will fuel the region's inflation, according to the AAA gasoline price survey posted on Friday.
Gasoline prices in the Bay Area, among the highest in the country, rose 37.2 percent in the year to Friday. An increase in gas demand, alongside a reduction in total supply, is contributing to price rises, but increasing oil prices continue to play a leading role in pushing prices higher, according to the survey.
Experts said shortages of supplies and workers, heavy federal aid, low interest rates and robust consumer spending combined to send inflation surging. The White House and the Federal Reserve have called the inflation temporary, pointing to the supply chain issues.
The high inflation rate has taken a serious toll on the approval ratings of US President Joe Biden, who has said a key way of combating rising inflation is to make more goods in the US. Jerome Powell, chairman of the Federal Reserve, repeated that he will support a 25-basis point rate rise at the central bank's next policy meeting on March 15-16.

(Latest Update March 8, 2022)